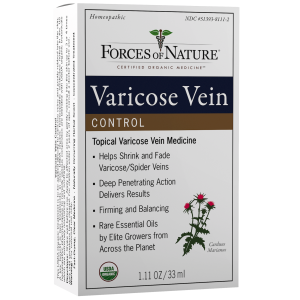 Forces Of Nature Varicose Vein Control - Does It Work?-Review
What is Forces of Nature Varicose Vein Control?
Today we review Forces of Nature Varicose Vein Control. This is an all-natural product containing no harmful chemicals and made from natural plant extracts and homeopathic remedies. The manufacturer claims that this product will help to diminish the size and appearance of spider and varicose veins and also to moisturize and heal damaged skin. Keep reading to see if Forces Of Nature Varicose Vein Control can work for you.
Ingredients & How It Works
Active Ingredients
Aesculus Hippocastanum (Horse-Chestnut)
Carduus Marianus (Milk Thistle)
Hamamelis Virginiana (Witch Hazel)
Inactive Ingredients
Pelargonium Graveolens Oil (Rose Geranium Oil)
Cupressus Sempervirens Oil (Cypress Oil)
Melaleuca Viridiflora Oil (Niaouli Oil)
Sesamum Indicum Oil (Sesame Oil)
Although unclear how these ingredients work together, the company states that the product provides a deep penetrating effect to help treat varicose and spider veins and also moisturize the skin.
Daily Serving
Apply to affected area by gently rubbing into the skin a minimum of 3 or 4 times daily until symptoms have cleared. Although unclear how long treatment should last, the company website recommends that you to continue using the product for at least one week after the symptoms are gone. Obviously, results will vary due to a number of factors. The company website and label states the following precautions when using the cream; this product is for external use only and should avoid contact with eyes. Flush with water and seek advice from a medical professional if in contact with eyes. Consult a doctor if the appearance of your skin worsens. Do not apply to open wounds or damaged skin, or use for prolonged periods of time without consulting a doctor. You may be sensitive to some oils in this product. If pregnant or nursing, speak to a healthcare professional before use. Not for use on children under age 2.
The Cost
On the Forces of Nature website, Varicose Vein Control is sold for $24.95 for a 1.11-ounce bottle. Shipping is free on orders over $39.
Guarantee
The manufacturer offers a respectable return policy. Within one year of purchase, you can return even a used bottle with the original receipt to the point of purchase for a refund. The company suggests you might receive a free upgrade in strength instead of receiving a refund. Refunds are limited to three bottles of any one product and require a receipt.
Our Review Summary Of Forces of Nature Varicose Vein Control
There were a few things we liked about Forces of Nature Varicose Vein Control. As product refunds go, this one isn't too bad providing the option to return even a used bottle with the original receipt for a refund within a year of purchase. BUT the refund is not guaranteed since the company suggests that instead of an actual refund you might instead receive a free upgrade in strength. This isn't a great alternative especially for consumers who no longer wish to continue using the product and actually prefer to get a monetary rebate rather than an upgrade in strength. Consumer review responses were mixed. Some positive reviewers liked the product and said it was helpful in reducing varicose veins, but others wrote negative comments saying the product was not helpful at all in lessening varicose vein appearance. Missing from the website was a more detailed description of the therapeutic effect of the product's ingredients, and also missing was a detailed description of what possible side effects of the cream might be. At $24.95 per bottle, this product is expensive and is only small in size, and unclear how long it will last if used up to 4 times a day as the company recommends. For these reasons, we are unable to recommend Forces of Nature Varicose Vein Control at this time.
Well researched reviews, from the experts at Research & You.