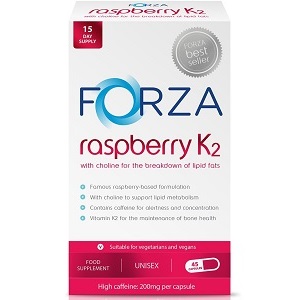 FORZA Industries Raspberry K2 - Does It Work?-Review
What is FORZA Industries Raspberry K2?
The following is a review on the product Raspberry K2, manufactured by FORZA Industries: This product has been formulated  to break down fat, help with bone health, support lipid metabolism, while augmenting alertness and concentration. Read on for more about this supplement.
Ingredients & How It Works
Raspberry fruit
Caffeine
Choline
Vitamin K2 (MK-7)
Other inactive ingredients: capsule shell (HPMC), colorings (titanium dioxide, allura red AC). Raspberry is a good source of antioxidants, and helps to increase the metabolic rate, whereas the caffeine acts as a stimulant that enhances alertness and concentration. Choline, on the other hand, helps to break down fat. Vitamin K2 supports bone health as it removes the calcium within the arteries, returning it to the bone. However, vitamin K2 in supplement form is not stable, since four hours after consumption it will convert to vitamin K1, which is a blood thickener (removes calcium from the bone and places it in the arteries).
Daily Serving
The manufacturer recommends taking two (2) capsules daily: one in the morning directly after breakfast, and the other in the afternoon just after lunch. Capsules should be taken with a glass of water. The manufacturer does state that anyone sensitive to caffeine may start with one (1) capsule daily. Consumers are warned not to exceed the daily dosage. This product should not be combined with other weight-loss products. Pregnant women and children should not use this product.
The Cost
The manufacturer offers three different sizes of bottle, namely 45-, 90- and 186-capsule bottles (the latter size bottle has been cancelled). The purchase price of the first two bottles is $13,20 and $23,77 respectively. The larger quantity has been discounted.
Guarantee
The manufacturer does not guarantee these products, but allows a 14-day period from receiving the goods to returning the unopened items. The company should be informed through email, and a statement attached to the email.
Our Review Summary Of Raspberry K2
The supplement Raspberry K2 appears an interesting slimming product that can also help to boost bone health. This product comes in different sized bottles, and there is a 14-day return policy. However, on the negative side, a consumer is not allowed to test the product by opening it and then returning it, without validating the terms and conditions of the return policy. More so, each capsule only contains 200 mg of raspberry fruit powder. Clinical studies indicate that, for optimal weight loss, 1000 mg of this substance is needed daily. Consumers taking this product will only receive 400 mg of the active ingredients, less than half of what is recommended by scientific studies. In addition, vitamin K2 is problematic. Not only does it convert to vitamin K1 after four hours, it can also lead to prostate cancer.
Well researched reviews, from the experts at Research & You.