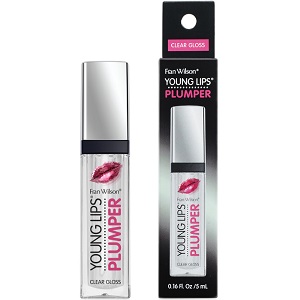 Fran Wilson Young Lips Lip Plumper - Does It Work?-Review
What is Fran Wilson Young Lips Lip Plumper?
Fran Wilson Young Lips Lip Plumper is a clear lip gloss that is said to make lips softer, fuller and younger-looking thanks to its use of "lip plumping" ingredients including a peptide complex which goes by the name "Maxi-Lip"..
As we researched the product in order to write this review, we discovered that it is made in the USA, and is not tested on animals.
Ingredients & How It Works
Maxi-Lip
Aloe Vera
Vitamin E
Maxi-Lip is a proprietary "plumping peptide complex" which is said to add volume and shine, However, the precise nature of this peptide complex is not divulged. Apart from the fact that it also contains Aloe Vera and Vitamin E, we were unable to find any information about any of the other ingredients in Fran Wilson Young Lips Lip Plumper. Together, Aloe Vera and Vitamin E help your lips to feel less dry, moisturized and soft. This will make them appear fuller without actually being larger. They also contains antioxidants that help to fight the free radicals that may harm cells, thus helping to treat fine lines and make lips appear younger.
Instructions
No definitive instructions on the use of Fran Wilson Young Lips Lip Plumper are provided. It appears that it can be applied day and night, as often as required. It can also be applied under or over your normal lipstick or alone to highlight your natural lip color. Several of the product reviewers mentioned that they put it at bedtime, enabling their lips to be treated and moisturized overnight.
The Cost
This is one of the most affordable lip gloss/plumpers we have seen. One 16fl oz/5ml tube costs $10 if you purchase it directly from the manufacturer's website. However, we found it for $7.99 from a third-party online retailer, so do shop around.
Guarantee
The manufacturer will accept exchanges of the product, provided it has not been opened. This is said to be for sanitary purposes. We were unable to find out if you could only exchange products you are not satisfied with, or whether refunds could be claimed.
Our Review Summary Of Fran Wilson Young Lips Lip Plumper
This is one of the most affordable products of its kind on the market today. If your budget is tight, this could exactly what you are looking for as it received only highly favourable reviews from individuals who claimed it made their lips soft and smooth; was not sticky and did not causing the tingling and other uncomfortable side effects that results from other lip plumping products.
However, we need to point out that all 30 of these reviews were posted on the Fran Wilson website. We were unable to find only two independently published reviews on other websites, both of which stated that while Fran Wilson Young Lips Lip Plumper was a great moisturizing lip gloss, did didn't do much in the way of lip plumping. The problem could be that the reviewers were not using the product correctly, but as no use instructions are provided, this could hardly be their fault.
Well researched reviews, from the experts at Research & You.