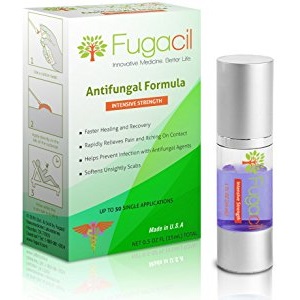 Fugacil Antifungal Formula - Does It Work?-Review
What is Fugacil Antifungal Formula?
This Fugacil Antifungal Formula review will examine the effectiveness of the product by outlining the ingredients, the costs, and the guarantee offered. This product is geared to resolve fungal infections such as pubic itch, athlete's foot, ringworm, and other common fungal skin infections. The manufacturers of this product claim that the application of this formula will lead to faster healing and recovering, reducing pain and itching of the affected areas. It will prevent infections and help to soften scabs.
Ingredients & How It Works
The active ingredient:
Fugacil Antiviral Nanoparticles – This ingredient is used to kill and prevent the fungus from spreading. Particles penetrate deeply into the skin, killing the fungal infection from within.
Other, inactive ingredients:
Melissa Officinalis – Helps to destroy the fungal cell walls
Astragalus – Helps to boost your immune system and aids by stopping the fungus from reproducing
Melaleuca (Tea Tree) – Speeds up skin healing and kills fungus on the skin surface
Geranium Maculatum – Helps to reduce itchiness
Lavender Essential Oil – Helps to heal scratches and bruises
Thyme – helps to soothe rashes and irritation
Other ingredients include: shea butter, ginseng, purified water, vitamins A, C and E. The formula is free from preservatives, gluten, and parabens.
This product does not contain the ingredient Undecylenic Acid which has been scientifically proven to combat fungal infections.
Daily Serving
If you notice the beginnings of fungal infection, or if it is already there, apply the solution to the skin on a cotton swab. This should be repeated 3 times daily until the fungus disappears.
The Cost
One 0.5 fl ounces (15ml) of Fugacil Antifungal Formula may be bought directly online from the manufacturers for $29.95, their discounted price. Free shipping applies if within the US; international shipping attracts a fee of $22.00 per purchase. It should be noted that this product covers only 50 applications. If you attend exercise classes or swim in public pools, for instance, you may require more applications than otherwise; meaning that the contents are used up over a short time span. Discounts on bulk sales would have been useful in this case. Unfortunately, this product does not come with that option.
Guarantee
The manufacturer does not have a consumer-friendly guarantee. Returns are only allowed once and for one product only. Customers receive money back, minus a delivery fee. Irrespective of how much you have bought, no more may be returned.
Our Review Summary Of Fungacil Antifungal Formula
The formula used for Fungacil Antifungal Formula consists of all natural ingredients that kill the fungal infection, soothe and heal the skin. In addition, the new price advertised on the company's website is attractive, based on the massive discount on the original price. However, there are some problem issues that should be mentioned: one of the finest ingredients for treating fungal infection is not found in this formula; also, as already stated, the guarantee policy is not consumer friendly.
Well researched reviews, from the experts at Research & You.