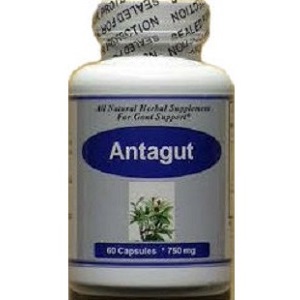 Fuma Natural Antagut - Does It Work?-Review
What is Fuma Natural Antagut?
Today we review Antagut manufactured by Fuma Natural. Antagut is a combination of herb that helps to balance and support a healthy production of Uric Acid. Antagut claims to prevent the formation of Uric Acid crystals that goes hand in hand with gout by helping your body metabolize Uric Acid effectively. Your body will then be able to get rid of the Uric Acid crystals providing you with gout-free joints. Ultimately inflammation, swelling and pain will also dissipate thereby helping you to maintain a high quality of life. If this product looks interesting to you, read the rest of our review below.
Ingredients & How It Works
Morinda
Eclipta
Alisma
Prunella
Berberine
Berberine is known for its antibacterial and anti-inflammatory properties. Prunella is known as a 'heal all' herb because it has a wide range of healing properties that can effectively alleviate gout symptoms. Alisma is usually effective against cystitis, dysentery and kidney stones. It can also help with building up the immune system and effectively control blood pressure. Eclipta reduces inflammation, detoxes the liver and can help with stomach ailments. Morinda boosts your immunity and provides cellular repair. All of these ingredients work together to provide relief for gout and its accompanying symptoms.
Daily Serving
It is advised that you take 3 capsules, two times per day on an empty stomach or as your healthcare provider advises. It is generally recommended that you take this supplement for at least 3 months for maximum effect. It is also recommended that you speak to your doctor before taking this product if you are pregnant or nursing.
The Cost
You can buy this product directly from the manufacturer's website. Each bottle contains 60 capsules and can be bought for $19.50. This product is currently on a discount since the normal price is $24.95. This price does not include the shipping and handling costs.
Guarantee
This product does come with a refund policy. If you are unhappy with the results after using this product for three months then you can return it for a full refund. All unopened bottles will be refunded and one opened bottle will also be refunded. You must send back all the bottles to be eligible for a refund and you will have to pay shipping and handling costs when returning your product, since these expenses won't be refunded.
Our Review Summary Of Antagut
We like that this product is relatively inexpensive if you compare it to similar products on the market. We also like that the ingredients used is 100% natural and that it contains no added fillers or additives. This product not only aids gout, but supports the health of the entire body. However, we are not satisfied with the guarantee policy that comes with this product. Since you can only be refunded for one opened bottle, there is no way you will be able to try out this product for 3 months risk-free. It is also a shame that the customer has to pay the shipping and handling fees when returning the product. There is also no active ingredient in this product that actively inhibits the production of Uric Acid.
Well researched reviews, from the experts at Research & You.