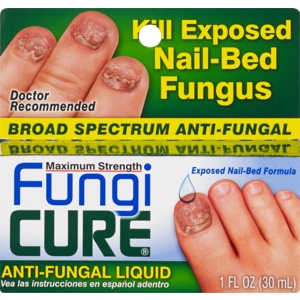 FungiCure Anti-Fungal Liquid - Does It Work?-Review
What is FungiCure Anti-Fungal Liquid?
The majority of us agree that fungal infections are very unsightly, and if you are unlucky enough to suffer from it on your hands or feet, you will also know it can get quite painful.
FungiCure Anti-Fungal Liquid is designed to work quickly by eliminating the growth of fungus on your digits. This nasty fungus usually grows around the edge of your nails and under nail tips. This gets very itchy, resulting in a burning sensation which can even bleed if left untreated. Can FungiCure Anti-Fungal Liquid actually prevent this from happening?
Let's take a closer look with our FungiCure review.
Ingredients & How It Works
Undecylenic Acid is the main active ingredient in FungiCure Anti-Fungal Liquid and is commonly used to treat fungal infections. Undecylenic acid is a fatty acid that is usually derived from castor oil. It is effective and generally cheap to make. FungiCure Anti-Fungal Liquid contains 25% which is the highest possible potency without a prescription. The base of this product contains aloe and vitamin E which have soothing abilities. Vitamin E also plays an important role in the healing of the skin and it can also promote cellular repair of skin cells. Fungal infections can damage skin so vitamin E can alleviate such symptoms.
Daily Serving
Instructions advise that FungiCure Anti-Fungal Liquid should be used twice daily. Make sure you have cleaned the area before applying and follow instructions carefully. Use the application brush provided so you don't have to get the solution on parts of your skin that don't need treatment. If you don't see results or improvement within 4 weeks you should stop using the medication.
The Cost
You can buy this product on Amazon. Based on our research, we found various different prices depending on the seller. The average seemed to be around $10 for a 30 ml tube.
Guarantee
The item is only eligible for US shipping and we cannot find any guarantee offers. Buy from a reputable third party retailer; then you may have some success in finding a money-back offer.
Our Review Summary of FungiCure Anti-Fungal Liquid
What do we like about the product?
It is very cheap. You won't break the bank trying it.
We like the application brush which makes it easy to apply.
What don't we like about the product?
Without sounding confusing, it is very cheap which may mean an inferior quality product.
The product has very mixed reviews on Amazon, including a high number of negative reviews.
The product does not seem to come backed by any guarantee.
Other antifungal creams and oils are available. Choosing a brand that you trust is a safe bet. Low prices don't mean better and you may suffer from less benefits by choosing the cheapest option.
Well researched reviews, from the experts at Research & You.