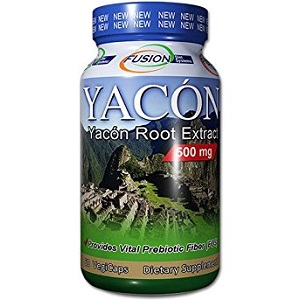 Fusion Diet Systems Yacon Root Extract - Does It Work?-Review
What is Fusion Diet Systems Yacon Root Extract?
This review looks at Fusion Diet Systems Yacon Root Extract, a dietary supplement that is composed of a Yacon Root Extract concentration. Yacon is a plant in South America and Yacon is traditionally a part of the diet of Peru. With a high content of fructooligosaccharides (FOS) which inhibits the uptake of carbohydrates and disrupts the formation of fat, Yacon Root can have a large impact on your diet. FOS also increases serotonin in the brain and suppresses your appetite while boosting your metabolism to help you lose weight.
Ingredients & How It Works
Primary Ingredient
Yacon Root Extract (Smallanthus Sonchifolius) - 500mg
Secondary Ingredients
Vegetable Cellulose (VegiCap)

Magnesium Stearate
One VegiCap has 500 mg of Yacon Root Extract and this appears to be a fair enough ingredient list with no artificial colorants or flavorings. Yacon is rich in antioxidants and has the ability to regulate your level of blood sugar, lower cholesterol, help with weight loss goals, lower blood pressure and boost digestive health.
Daily Serving
The product label instructs taking one VegiCap twice a day with a full glass of water, preferably before meals. Individuals who are pregnant, nursing or have a medical condition should speak with their healthcare professional before using this product. It is not intended for persons who are under 18 years of age.
The Cost
This product can only be purchased on third-party websites and we found it very difficult to find websites where it was still being sold.  At this point, most third-parties websites have discontinued selling the product which suggests that it was not a popular product and was not worthwhile for the retailer to continue selling. The one website we found sold a 500 mg container with 60 VegiCaps for $33.98. There are no bulk purchasing packages at this point, so understandably, no discounts appear to be available.
Guarantee
The manufacturer does not appear to offer a money-back guarantee at all. We, therefore, caution buyers that since this product is no longer sold in a widespread manner, it would be extremely difficult to return the product if unsatisfied.
Our Review Summary Of Fusion Diet Systems Yacon Root Extract
Fusion Diet Systems Yacon Root Extract is an easy to swallow Yacon Root Extract capsule with a very respectable amount of yacon root.  Unfortunately, this product appears to have been discontinued, but not entirely taken off the market at this time with just a few third-party websites still selling their product.  Additionally, there are almost no reviews for this product at this time and with the difficulty in purchasing it coupled with it being very expensive, we place it on the periphery of Yacon Root products in the marketplace at this time.  Moreover, with no guarantee in place, there would be little incentive whatsoever to try this product. The good news is that there are many other products being sold that are Yacon Root Extracts, that carry extraordinarily positive customer reviews and which carry risk-free purchasing by the manufacturer offering a satisfaction guarantees of varying lengths of time.
Well researched reviews, from the experts at Research & You.