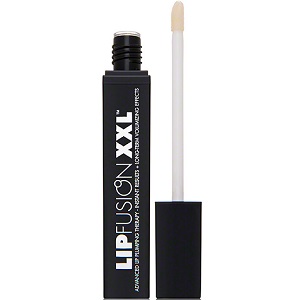 FusionBeauty LipFusion XXL - Does It Work?-Review
What is FusionBeauty LipFusion XXL?
Age is no friend to lips. They tend to grow wrinkled and thinner as time pass because the body is less able to produce collagen and elastin, the substances that keep lips looking full and soft.
Products that are formulated to counteract the problem are known as lip plumpers. There are many different kinds on the market. This is our review of FusionBeauty's LipFusion XXL, billed by the manufacturer as an advanced, intense lip plumping therapy. It is said to deliver instant, long-term results through the use of a patented technology, Instaplump..
Ingredients & How It Works
Instaplump, the patented technology used in FusionBeauty LipFusion XXL is said to offer instant lip-plumping effects, giving you a warm, tingling sensation with fuller lips that will stay that way for 2 to 4 hours. This is probably the result of the use of caffeine, which basically irritates the skin, making it redden and swell – which is exactly what makes the lips appear fuller and more prominent. Niacin, a B-vitamin, has the effect of dilating the blood vessels and causing mild inflammation. Together, these could result in the tingling effect that you may find disconcerting, irritating – or reassuring that the product is working. We could not find any details of any other ingredients used in the manufacture of this product.
Instructions
FusionBeauty LipFusion XXL is easy to use. Simply used the wand-like applicator to apply the product to your clean, dry lips, as you would a standard lip gloss.
There is no indication of how often you can use the product, or whether regular application will do any harm. The effect of caffeine and Niacin may last for between 2 to 4 hours, so you possibly could repeat application of the product after that time has elapsed. While the manufacturer states that you can use LipFusion XXL advanced lip plumping therapy intense with other LipFusion products, it does not make it clear whether it can also be used in conjunction with any other lip colour product.
The Cost
You can purchase a 0.29oz (8.22g) container of FusionBeauty LipFusion XXL directly from the manufacturer for $57.00.  When we were doing our research for this review, there were no specials or discounts offered on the FusionBeauty website for this product.
Guarantee
FusionBeauty has one of the most liberal returns policy we have seen. If for any reason you are not satisfied with your purchase, and you obtained the product directly from FusionBeauty, you simply have to return the unused portion and your receipt within 30 days of purchase, and you will receive a 100% refund – less shipping and handling fees.
However, if you purchased the product elsewhere, your returned product will be destroyed and you will not be reimbursed. We therefore recommend you check out the returns policy of any third-party retailer from whom you plan to buy FusionBeauty LipFusion XXL.
Our Review Summary of FusionBeauty LipFusion XXL
FusionBeauty LipFusion XXL will deliver almost instant results as the main ingredients get to work, dilating the lips' blood capillaries and making the lips redden and swell slightly. This could result in a tingling sensation, assuring you that the product is working. However, some users may find this irritating.
We were also impressed with the returns policy on the product.
However, were concerned that there was no indication of what other products were included in the product, which means that it should be used with caution by vegetarians and vegans.
Well researched reviews, from the experts at Research & You.