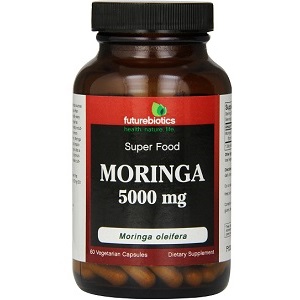 Future Biotics Moringa - Does It Work?-Review
What Is Future Biotics Moringa?
In this review, we will be examining a product from Future Biotics known as Moringa. Moringa is an herbal ingredient, which has been used for a variety of health benefits for centuries in Ayurvedic medicine. This ingredient is considered a superfood because not only will it improve your general health but is incredibly nutrient dense. This ingredient is also high in minerals and vitamins like vitamins C, A, calcium and potassium. Finally, the manufacturer of this product claims that their herbal supplement will provide you with several vital amino acids and phytonutrients.
Ingredients & How It Works
Moringa (leaf) (Moringa Oleifera)
Microcrystalline Cellulose
Modified Cellulose ( Vegetarian Capsule)
Vegetable Stearate
Silica
When we looked at the ingredients included in this formula, we found that it could be effective for people who are looking for a supplement to boost their health. The only active ingredient is Moringa Oleifera, and they chose to include an astounding 5000mg of this ingredient in each capsule. Sadly, we believe that this product contains an excessive amount of additives, preservatives, fillers, and binders. This is concerning as the manufacturer claims that this is a natural product. We also believe that an effective product would only contain the active ingredient.
Daily Serving
The manufacturer of this product does not provide sufficient information for their customers to use this product safely. They only state that a single serving is equal to one capsule. This is concerning as certain supplements can damage your intestinal tract if you take it on an empty stomach. Your stomach contents may also have an influence on your ability to absorb this product.
The Cost
You can buy this dietary supplement directly on the manufacturer's online store. One bottle that contains 60 capsules is sold for $17.95. Unfortunately, there are currently no discounts or special offers available if you buy this product. We could also not find any information regarding shipping fees so you can expect to pay extra for that.
Guarantee
Sadly, we could not find any information on guarantees for this product. This indicates that the manufacturer is not entirely confident with their product. Companies who offer guarantees are sure that their products serve their intended use and are thus not afraid to refund people who are not entirely satisfied with their product.
Our Review Summary Of Future Biotics Moringa
When we completed our review of this product, we found that it was a rather effective product for individuals who want to improve their health. This product provides you with an excellent amount of the active ingredient and it is available for a rather affordable price. However, we were concerned about a number of things we uncovered during our research. This product contains an excessive amount of additional ingredients, which one would not usually find in a product like this. Additionally, the manufacturers of this product do not provide any guarantees for their customers. Finally, we would have liked to see a customer review for this product but we were out of luck.
Well researched reviews, from the experts at Research & You.