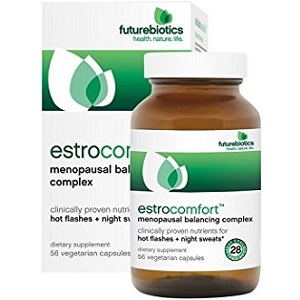 Futurebiotics EstroComfort - Does It Work?-Review
What Is Futurebiotics EstroComfort?
This informative review will provide you with all the real facts about EstroComfort. This product claims that it is a natural supplement that will help bring you relief from the unfortunate symptoms that are associated with menopause such as hot flashes and also uncomfortable night sweats while also helping to reduce stress and relax you.
Ingredients & How It Works
Vitamin B6 - 25 mg
Folate - 666 mcg
Vitamin B12 - 100 mcg
Red Clover Blossom Extract - 165 mg
SoyLife Soy Germ Extract - 100 mg
Suntheanine L-Theanine - 100 mg
Black Cohosh Root Extract - 90 mg
Proprietary Calming Herbal Compound - 120 mg
Magnolia Bark Extract
Dong Quai Root
Soy
Chasteberry Fruit
Kudzu Root
Date Fruit Extract
Vitamin B6, Folate and Vitamin B12 are all essential for the correct function and development of many important body functions. Red clover blossom extract and SoyLife soy germ extract both contain substances that are similar to estrogen. Suntheanine L-Theanine works as an amino acid. Black cohosh root extract may reduce the symptoms of menopause. Magnolia bark extract may be able to reduce anxiety. Dong quai root effects of the estrogen hormone and may create hormone balance. Chasteberry fruit also affects your hormone levels and may have some side effects including upset stomach, rash, acne, and others. Kudzu root also acts like estrogen and may help blood circulation. Date fruit extract might assist with asthma.
Daily Serving
The manufacturer suggests that you should use this dietary supplement by taking two capsules daily and that they should be taken along with meals. It is unfortunate that there are no alternative dosages however, you may also seek advice from a healthcare professional on how best to use this product. It is cautioned that you should not use this product if you are pregnant or nursing and that it should be confirmed with a healthcare professional before giving it to minors as a safety precaution. This product does contain soy and therefore it may have allergen risks.
The Cost
This product is available to be purchased online and directly from the manufacturer's website. A bottle containing 56 capsules will cost you $19.95 and there are unfortunately no discounts available.
Guarantee
The manufacturer of this product does advertise a 100% money back guarantee and they state on their website that this guarantee is valid for a year from your purchase date. You are required to return the unused portion within one year of purchase in order to qualify for a refund however, they will not refund any shipping costs involved.
Our Review Summary Of EstroComfort
Considering that this product does use some good ingredients while may be beneficial and it also has a money back guarantee which shows some confidence from the manufacturer, it could be viewed as an alright product although, it does contain allergens and use some ingredients which do have side effects according to research. This suggests that this product is probably not suitable for everyone. This product has no discounts available and in general it does not seem all that great in comparison to most other similar products and therefore, we recommend that you should rather consider a more suitable product that is safer to use.
Well researched reviews, from the experts at Research & You.