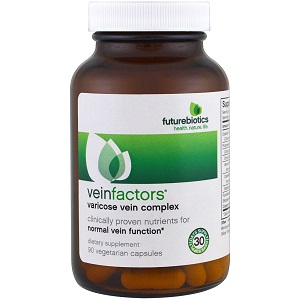 Futurebiotics VeinFactors - Does It Work?-Review
What is Futurebiotics VeinFactors?
The following product review explores all the real facts about Futurebiotics VeinFactors. The manufacturer claims that this product uses ingredients that will encourage normal vein function, help maintain blood vessel tone and strength and that it will also promote healthy circulation for your legs.
Ingredients & How It Works
DioVein Diosmin Complex (with Hesperidin) - 1000 mg
Proprietary Vein Support Compound - 275 mg
Citrus Powder
Citrus Bioflavonoids
Venocin (standardized to 20% escrin from horse chestnut seed extract)
Centellin (standardized to 8% triterpenes from Gotu kola leaf extract)
Futurebiotics BioAccelerators - 23 mg
Bioperine+
Ginger Root Extract
Trikatu
Digezyme+
Lactospore+
Diosmin works by reducing inflammation and restoring correct vein function. Hesperidin may encourage blood vessels to function better and decreases swelling. Citrus Powder and Citrus Bioflavonoids provide antioxidant benefits. Venocin helps to thin blood and prevents water retention.  Centellin contains chemicals that reduce inflammation and blood pressure in veins. Butcher's Broom Root Extract may help blood vessels to narrow and may also improve circulation. Bioperine+ increases the absorption of vitamins and nutrients. Ginger Root Extract contains chemicals that lessen nausea and reduce inflammation. Trikatu is a herbal blend that may assist with digestive health and provide healthy detoxification. Digezyme+ promotes digestive health. Lactospore+ is beneficial as a probiotic.
Daily Serving
It is recommended by the manufacturer for adults to take three capsules per day along with meals. This product should be kept away from children and is not suitable to use if you are pregnant or nursing. Extensive research confirms that the majority of the ingredients used in this dietary supplement can cause a list of unpleasant side effects such as stomach and abdominal pain, diarrhea, dizziness, headaches, hives and skin redness, muscle pain, blood problems and altered heart rate and in light of this, we recommend that you should rather first consult a healthcare practitioner before use.
The Cost
This product can be purchased online directly from the manufacturer's website where one bottle will cost you $29.95. One bottle contains 90 capsules, which is a one month supply when used according to the manufacturer's recommended dosage and there are no suggested discounted options available which is somewhat disappointing.
Guarantee
The manufacturer provides a strong money back guarantee for this product which states that you may return the unused portion for a full refund if you are not completely happy with it for any reason. This guarantee is valid for one full year from your purchase date according to the provided information.
Our Review Summary Of Futurebiotics VeinFactors
When considering that this product does use some good ingredients that may be beneficial and that it has been backed by a strong manufacturer's guarantee, it could be seen as an ok product. However, the majority of the ingredients used can cause various unpleasant side effects and this indicates that it is not entirely a suitable and safe product and it is significantly concerning that there are numerous customer reviews available online which state that this product provided no effective results. Based on our extensive research, Futurebiotics VeinFactors unfortunately, does not possess any superior qualities in comparison to most other similar products and therefore, we suggest that you should rather opt for a more suitable product available from leading brands that have proven to be effective.
Well researched reviews, from the experts at Research & You.