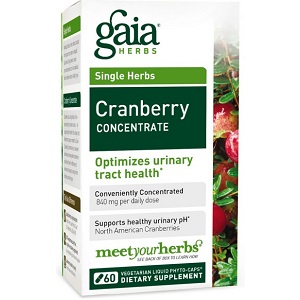 Gaia Herbs Cranberry Concentrate - Does It Work?-Review
What is Gaia Herbs Cranberry Concentrate?
As the name suggests this product contains cranberry concentrate that is focused on delivering relief from pesky urinary tract infections. In this review of Gaia Herbs Cranberry Concentrate, our goal is to find out if this product contains all the right ingredients to provide you with overall relief from present and future infections. The manufacturer also claims that this formula is designed to deliver the necessary nutrients that you won't get from whole cranberries that are filled with sugar and have a bitter taste.
These are the facts.
Ingredients & How It Works
Cranberry fruit juice concentrate is the only active ingredient in this formula. Some studies have revealed that cranberry may be beneficial for UTI's as it prevents bacteria from adhering to the bladder wall. Unfortunately, there is not enough evidence to prove that cranberry alone can deliver effective results from eliminating the infection altogether. Vital supporting ingredients such as D-Mannose, Uva-Ursi, and Lingonberry are needed to help neutralize the ph levels of the body and promote urination to flush the bacteria out of the body.
Daily Serving
The manufacturer advises you to take one capsule twice a day after meals. Based on the fact that there are crucial ingredients missing from this formula, this dosage alone may not be potent enough to deliver any measurable results.
The Cost
A bottle containing 60 capsules can be purchased online for $29.99 however if you purchase 3 bottles there is a discounted price of $28.32 each. This does not seem like a savings opportunity seeing as you only get a $5.00 discount. There is also an option of an auto-ship program which gives you 10% off however, these programs are usually difficult to cancel and come with hidden costs.
Guarantee
There seems to be a return policy in place for these products however, the manufacturer does not stipulate the timeframe you have in which to return these products and what condition the product need to be in when you return it. Weak guarantee policies like this often say a lot about the brand's confidence in their formula and how they regard their consumers.
Our Review Summary Of Gaia Herbs Cranberry Concentrate
We like the fact that the ingredients have been naturally sourced and the formula is free of any allergens, however, we do have a few concerns about this product. The formula seems to be lacking crucial ingredients that not only provide relief and eliminate bacteria but also prevents future infections. There are not enough studies to prove that cranberry alone is an effective remedy. The product is not very cost effective either and the discounts are minor. The guarantee policy lacks crucial information and we feel consumers should be offered a window period of at least 60 days when trying any new supplement. Based on our findings it may be in your best interest to look at alternative brands.
Well researched reviews, from the experts at Research & You.