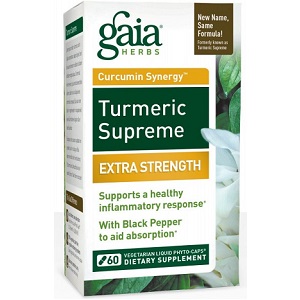 Gaia Herbs Turmeric Supreme Extra Strength - Does It Work?-Review
What is Gaia Herbs Turmeric Supreme Extra Strength?
This review examines the claims of this product for enhancing a healthy inflammatory response and maintaining overall health and vitality. The manufacturer states that this product has been derived from an ancient but effective medicinal treatment in India. Modern science has gone a step further and identified useful compounds in turmeric, such as curcumin, which are effective in supporting a healthy inflammatory function in the body.
Ingredients & How It Works
Turmeric root extract (Curcuma longa) - 406mg
Turmeric root extract (36mg curcumins) - 42mg
Turmeric root supercritical extract - 34mg
Black Pepper - 7mg
The main ingredient in this product is the turmeric root extract which contains high levels of curcumin. Curcumin seems to be an effective anti-inflammatory and antioxidant.
Daily Serving
It is recommended to take one or two capsules per day. As to when you should take one or two capsules, you may need to consult your healthcare provider. This product should be taken together with meals. Although natural separation may occur in the process of storage, it does not take a toll on the quality of the product. Pregnant and nursing women should not use this product. Turmeric has no significant side effects, but some users may experience nausea, stomach upset, and dizziness. Some have even reported cases of diarrhea.
The Cost
You can buy a 60-capsule bottle online directly from the manufacturer for $29.99 while a 3-pack goes for $83.97. A bottle containing 120 capsules costs $49.99 while its 3-pack will set you back by $139.97. You can also sign up for auto-delivery and save 10% and receive a free gift. It is important to read the terms of auto-delivery as it can sometimes be difficult to cancel.
Guarantee
The manufacturer liaises with WorldPantry.com to provide a satisfaction guarantee to its customers. If the product doesn't satisfy your expectations, return it to the manufacturer as soon as possible, however, no timeframe as been provided by the manufacturer. You need to explain the reason for the return in writing. Remember to enclose the packing slip in the carton before sending it to the return address provided on the shipping label. The manufacturer promises to promptly replace the package or give you a full refund of the purchase price.
Our Review Summary Of Gaia Herbs Turmeric Supreme Extra Strength
Due to its high composition of curcumin, Turmeric Supreme Extra Strength seems to be an effective treatment for joint inflammation. It is relatively cheap compared to other similar products and the manufacturer offers 100% satisfaction guarantee. However, the timeframe in which you have to return the product is vague. Instructions on dosage are also not conclusive - no explanation as to the criteria one would use to determine whether to take one or two capsules. There is also no customer feedback on the manufacturer's website. We also only found 3 reviews on Amazon. Although all the reviews were very positive, there are not enough to be able to decide if customers are happy with the product or not. We think it is better to look for a product with more details about user experiences and positive reviews.
Well researched reviews, from the experts at Research & You.