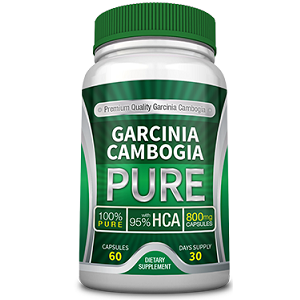 Garcinia Cambogia Pure - Does It Work?-Review
What is Garcinia Cambogia Pure?
The manufacturer of Garcinia Cambogia Pure claims that, as a company, it is transparent with no false claims or misleading information. And, consistent with this approach, it brings Garcinia Cambogia Pure to a hot, competitive and not always the most straightforward market. This product is said to be based on benchmarks - for the percentage of active ingredient and quality - from clinical studies which showed Garcinia Cambogia to be a successful diet-enhancing supplement. And the manufacturer takes pains to warn buyers about inferior products that are just trying to "cash in" on the popularity of this weight loss aid, without concern for the caliber of the product or its efficacy.
Is Garcinia Cambogia Pure the right supplement to boost your diet plan? Read our full review below to find out.
Ingredients & How It Works
The product has a simple ingredients label. Ingredient quantities are per two capsules:
The mechanics of how HCA works in the body are well publicized. It is said to inhibit the uptake of carbs as well as the function of enzymes involved in the formation of fat. HCA is also said to help in the burning of existing fat by breaking down a protective protein around fat cells. And if that wasn't enough, it purportedly helps suppress appetite and, in particular, the desire for fatty junk foods.
Garcinia Cambogia Pure emphasizes the fact that it contains no fillers, binders or additives.
Daily Serving
The manufacturer recommended dosage is one capsule, twice daily, each 30 minutes before a meal, swallowed with water.
The usual caveats are also noted: Pregnant and nursing women, those under the age of 18 and anyone with an existing medical condition should consult a physician before using any weight loss aid.
The Cost 
You can buy the product directly from the company's website where there are a number of purchase options. An individual bottle of 60 capsules (a month's supply) was selling for $49.95 at the time we researched this review. From there, there are several bulk-buy packages. A three-bottle set cost $33.30 each, while 5 bottles could be had for $29.97 each. A seven bottle, seven-month supply topped the list in total cost but also in savings per bottle at $28.54 each. 
Guarantee
While no company can guarantee a particular supplement will work for a given person, it can set itself apart from the "fly-by-night" versions by offering a solid money-back guarantee. In the case of Garcinia Cambogia Pure, the company does so by covering customers with a 60-day refund policy which includes both opened and unopened bottles. Not all companies offer a money-back guarantee and even among those that do, they don't all accept opened bottles. This makes trying this particular product risk-free, financially.
Our Review Summary of Garcinia Cambogia Pure
Garcinia Cambogia Pure looks to be a serious product in a market that has many that are hard to take seriously. Its formula is based on the quantities and quality of HCA that was shown to be successful in reducing fat. It also offers a serious and customer-first money-back policy that gives us confidence in the company's confidence in its product. If you're set on using Garcinia Cambogia to step-up your weight loss results, we think this one is worth trying.
Well researched reviews, from the experts at Research & You.