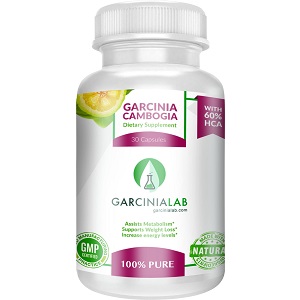 GarciniaLab Garcinia Cambogia - Does It Work?-Review
What is GarciniaLab Garcinia Cambogia 60%?
This is a detailed and factual review of the product Garcinia Cambogia 60% by GarciniaLab. This popular extract is derived from the rind of a South Asian fruit which triggers the fat burning process and also helps to suppress appetite. The regular usage of the product helps the body to reduce fat and possibly prevent the buildup of more excessive weight. The product not only helps to reduce appetite but also diminishes the urge to consume sugars. It also aims to increase metabolism and help to increase the energy levels of the body.
Ingredients & How It Works
The product Garcinia Cambogia 60% contains only 500mg of Garcinia Cambogia extract standardized to contain 60% HCA. HCA is the element contained in Garcinia Cambogia which promotes weight loss. This is much lower than other products on the market.
The other ingredient found in this product is vegetable cellulose, which makes up the capsule.
The product is free of fillers, binders, and calcium.
Daily Serving
As a dietary supplement, it is suggested to take two capsules per day of this product. Further, it is advised to take one capsule 30 minutes before breakfast on an empty stomach with an 8oz glass of water. Then another capsule should be taken 30 minutes before lunch or dinner with an 8oz glass of water or as directed by your healthcare practitioner.
The manufacturer lists that though the product is 100% safe, some users have experienced minor side effects such as dry mouth and upset stomachs. It is advised to consult a doctor prior to taking any supplement, especially if one is taking other medications as well. Customers who are under 18 years old should also seek medical advice before consuming this product.
The Cost
This product is available in a capsule form and contains 30 servings. A bottle of the product can be purchased online at a price of $24.95. Two bottles can be purchased at a price of $23.99 each, thereby saving 4%. A customer can buy three bottles for a price of $21.45 each, thus saving 15% on the purchase. Four bottles can be purchased for a price of $20.45 each, saving 19%. If you go for a purchase of five bottles, then it can be purchased for a price of $19.45 each, saving 23%.
Guarantee
The manufacturer does offer a return policy but it is quite limited. Unopened products may be returned within 30 days of purchase while products which are defective need to be returned within one week of purchase. If the product is returned because it is defective, you will not receive a full refund, you can get a replacement product or a partial refund. They will not refund the shipping charges.
Our Review Summary Of GarciniaLab Garcinia Cambogia 60%
GarciniaLab Garcinia Cambogia 60% is made in an FDA-registered and cGMP-certified facility. It is suitable for vegetarians. However, the concerns outweigh the positives associated with this product. We doubt the effectiveness of the product as it contains a low concentration of HCA. Also, the product is on the expensive end. The return policy is also not at all user-friendly as we believe that the strength of a guarantee can indicate a company's belief in its product, and this one does not allow you to return opened bottles which does not allow you to really try the product. It always makes us more confident to choose to purchase from manufacturers that offer good guarantees.
Well researched reviews, from the experts at Research & You.