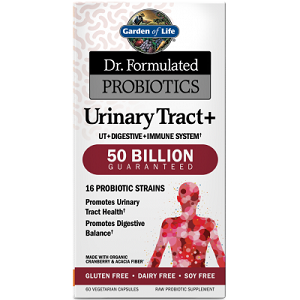 Garden of Life Dr. Formulated Probiotics Urinary Tract+ 50 Billion CFU - Does It Work?-Review
What is Garden of Life Dr. Formulated Probiotics Urinary Tract+ 50 Billion CFU?
This review is going to take a closer look at Garden of Life Dr. Formulated Probiotics Urinary Tract+ 50 Billion CFU to learn more about how it works and to see if it is worth trying out. This product is a probiotic supplement that is designed to support urinary tract health. The manufacturer claims that their product is unique to other probiotic supplements because it also contains Pacran whole Cranberry. The probiotics are designed to replenish the naturally occurring beneficial bacteria that reside in your urinary tract in order to prevent UTIs from occurring. Cranberry has to ability to prevent UTI causing bacteria from sticking to the urinary tract walls and turning into an infection.
Ingredients & How It Works
Vitamin D - 1,000 IU

Women's Probiotic Blend (Lactobacillus plantarum, Lactobacillus acidophilus, Lactobacillus paracasei, Lactobacillus rhamnosus, Lactobacillus gasseri, Lactobacillus casei, Lactobacillus acidophilus NCFM, Lactobacillus reuteri, Lactobacillus brevis, Lactobacillus bulgaricus, Lactobacillus salivarius) - 164 mg

Lacto Cultures (Bifidobacterium lactis, Bifidobacterium bifidum, Bifidobacterium breve, Bifidobacterium infantis, Bifidobacterium longum) - 45 Billion CFU

Bifido Cultures - 5 billion CFU

Probiotic Cultures - 50 Billion CFU

Organic Pacran Whole Cranberry - 500 mg

Organic Prebiotic Fiber Blend (Organic potato, Organic Acacia Fiber) - 439 mg
Inactive Ingredients: Non-GMO Vegetable Pullulan Capsule.
Lactobacilli are believed to dominate the urogenital flora bacteria in a healthy woman. It is believed that restoration of the urogenital flora with lactobacilli may protect against UTIs. Cranberry aids in the prevention of UTIs by causing the urine to become acid and therefore causes the bad bacteria stick to the wall lining of the urinary tract.
Daily Serving
The manufacturer suggests adults taking 2 capsules daily with or without food. You can open the capsules and mix them with water or juice. This product is not intended for children. If you are pregnant, nursing or under medical supervision, you should talk to your doctor before taking this product.
The Cost
You can purchase this supplement directly from the manufacturer. One 60-capsule bottle is available on the manufacturer's website for $35.96. They do not offer reduced price bulk purchasing.
Guarantee
The manufacturer offers a 30-day money back guarantee but does not stipulate any further terms and conditions. We recommend contacting their customer service to inquire about their up to date policies before purchasing this product.
Our Review Summary Of Garden of Life Dr. Formulated Probiotics Urinary Tract+ 50 Billion CFU
This probiotic supplement appears to be a decent tool that can help improve your overall urinary tract health. It comes in easy to take capsules and is made up of a variety of ingredients that are formulated in order to promote urinary tract health. The manufacturer's website is colorful and extensive. They go into detail about the manufacturer's own attributes and qualities but do little to explain any information about the product itself. This product is backed by a manufacturer's guarantee which is always something important to look for when choosing a supplement but that being said, their guarantee is weak and limited. Thirty days is not necessarily enough to time to be able to determine whether or not a supplement is worthwhile. You are better off purchasing a supplement that offers enough information with which to make an informed decision and one that is backed by a manufacturer's guarantee for consumer protection.
Well researched reviews, from the experts at Research & You.