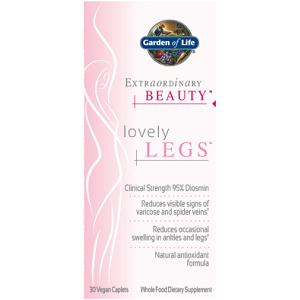 Garden Of Life Extraordinary Beauty Lovely Legs - Does It Work?-Review
What is Garden Of Life Extraordinary Beauty Lovely Legs?
Garden Of Life Extraordinary Beauty Lovely Legs claims to offer a variety of benefits; such as reducing visible signs of varicose and spider veins as well as decrease swelling, water retention, and heaviness. These claimed benefits are said to be achieved through toned capillaries and veins as well as increased blood vessel strength. However, can the product effectively fulfill these claims? This review has the answers.
Ingredients & How It Works
This product contains a sole key active ingredient, 600mg of diosmin (95%). This ingredient is made from hesperidin, an antioxidant bioflavonoid that is clinically proven to reduce the appearance of varicose veins and spider veins. This ingredient is also known to alleviate mild swelling, reliving the symptom known as 'heavy legs'. Although this ingredient is beneficial, alone it may not be as effective as other brands which offer a dual action formula (such as capsules and a topical cream) that includes additional supportive ingredients in their formula. These ingredients include Witch Hazel, Butcher's Broom, as well as other anti-inflammatories, astringents, and antiseptic ingredients that address all associated symptoms of varicose veins. The lack of an additional external treatment may inhibit the product's performance, which is unfortunate. This product is vegan, gluten and dairy free; however, there is no mention if it was produced in a cGMP certified manufacturing facility. As this certification ensures quality processes, we are uncertain if this product was made to the market standard.
Daily Serving
To use as a dietary supplement, adults are to take 1 'caplet' of Garden Of Life Extraordinary Beauty Lovely Legs with water and food. It appears this should be taken once a day. Although the concentration of the key active ingredient is adequate, the lack of supportive ingredients and an external treatment may inhibit total care and optimal relief from varicose veins. This product is not intended for pregnant or nursing mothers.
The Cost
This product is available for purchase on the manufacturer's website. A bottle of 30 caplets (which would last 1 month) normally retails for $33,99; however, at the time of writing this review, the product was on sale for $27,19. This is a relatively affordable price, although the lack of supportive ingredients and treatments may indicate that this product requires prolonged use to attain results. There is no package offers available on the Garden of Life's website which could suggest an expensive accumulated cost of sustaining this product use.
Guarantee
After thorough research, we were unable to find any information pertaining to a manufacturer's guarantee or returns policy. This is a concern as it may indicate a lack of confidence in this product's ability to fulfill the manufacturer's claims. Furthermore, there are many negative customer reviews available on third-party sites that complain that this product is ineffective.
Our Review Summary Of Garden Of Life Extraordinary Beauty Lovely Legs
Garden Of Life Extraordinary Beauty Lovely Legs contains 1 key active ingredient known to offer relief to varicose veins. While this ingredient is adequately dosed, this supplement alone cannot offer the safe relief as competing brands that provide both an internal and external treatment. Furthermore, there is no GMP certification or available information on the manufacturers guarantee to give customers peace of mind. This, combined with poor customer reviews complaining of efficacy is why we do not recommend this product.
Well researched reviews, from the experts at Research & You.