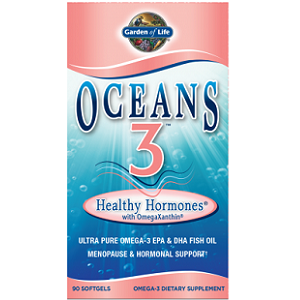 Garden Of Life Oceans 3 Healthy Hormones - Does It Work?-Review
What is Garden Of Life Oceans 3 Healthy Hormones?
This is a review of Oceans 3 Healthy Hormones, a menopause supplement provided by Garden of life. This product claims to fulfill a variety of menopausal benefits such as hormonal and anti-aging support, and promoting cardiovascular health and emotional well-being. By addressing the product ingredients and customer support, we will be able to assess if these claims are justified as well as if this product is a worthwhile purchase.
Ingredients & How It Works
Omega-Xanthin
Ashwagandha
Indian Gooseberry
Wild Hops Extract
Omega-Xanthin, this products patented ingredient, is an antioxidant-rich fish oil that promotes healthy hair and skin, reduces signs of aging and hot flashes, relieves depression, and supports cardiovascular health. Ashwagandha, Indian Gooseberry, and Wild Hops Extract are known to provide hormonal support, balance mood swings, and relieve hot flashes. While these ingredients may be effective in relieving signs of menopause, the formula is missing popular key active ingredients such as Black Cohosh and Wild Yam - which could have increased the products ability to support and relieve menopausal symptoms.
Daily Serving
It is advised that adults take 3 softgels daily with meals and ample water. This product needs to be refrigerated once opened and is not intended for children or anyone who is pregnant, nursing, or has an iodine allergy. Some customer reviews reported a negative effect on skin, leading to acne and breakouts.
The Cost
Oceans 3 Healthy Hormones is currently available for purchase at a discount on the manufacturer's website for $41,59 (usually $51,99). There is no evidence of package deals available. This would make the sustained purchase and use of the product relatively costly to maintain.
Guarantee
There is a 30-day money-back guarantee available for products bought through the manufacturer's website only, however, the refund policy is unclear as to the extent of product use that makes customers eligible for a refund. Customers need to contact customer service for additional information. There was a customer review that complained about the refund policy not applying to their product because it was damaged during shipping, which is a concern for potential customers looking to have their products shipped.
Our Review Summary Of Garden Of Life Oceans 3 Healthy Hormones
Garden Of Life Oceans 3 Healthy Hormones has a concentrated Omega 3 ingredients that - when combined with the other key ingredients - may deliver on the manufacturer's claims. However, this product is missing key popular ingredients that have been known to provide targeted relief of menopause symptoms, leaving this product as more of a vitality supplement than menopausal support. There is limited customer support provided by the manufacturer, which is unclear on the extent to which refunds can be rewarded. In saying that, we cannot justify this product as a worthy purchase when there are other competing products available with more guaranteed menopause relief and customer support policies in place.
Well researched reviews, from the experts at Research & You.