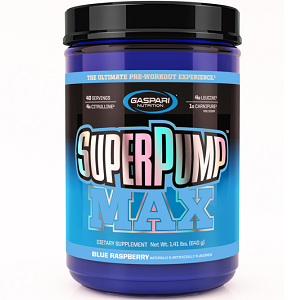 GASPARI SuperPump MAX - Does It Work?-Review
What is GASPARI SuperPump MAX?
In this review, we will be discussing SuperPump MAX, made by the manufacturer GASPARI. This supplement comes in a powder form and is formulated with the intention to support endurance, promote nitric oxide levels and assisting with the reduction of muscle fatigue and soreness - it is generally used by athletes as a pre-workout supplement.
Ingredients & How It Works
Vitamin C (As Ascorbic Acid)
Niacin (As Niacinamide)
Vitamin B6 (As Pyridoxine Hydrochloride)
Vitamin B12 (As Methylcobalamin)
Calcium
Phosphorus
Magnesium
Sodium
Additional proprietary blends of ingredients:
MyoVol ElectroHYDRATION Complex      
L-Taurine          
Calcium Glycerophosphate          
Sodium Glycerophosphate          
Di-Magnesium Malate          
Di-Potassium Phosphate          
L-Alanyl-L-Glutamine (Sustamine)    
Nitric OxiENDURANCE Complex    
L-Citrulline          
L-Carnitine L-Tartrate (Carnipure)          
L-Ornithine-L-Aspartate
Branch Chain mTOR Stimulation Blend
L-Leucine       
L-Isoleucine          
L-Valine    
PhosphoDRIVE Signaling Complex     
Creatine Monohydrate     
Magnesium Creatine Chelate (Creatine Magna Power)
CogniDRIVE Acceleration Matrix          
L-Tyrosine          
Caffeine          
Glucuronolactone
The ingredients contained in SuperPump MAX claims to provide nutritional support throughout the pre, during and post workout. The vitamin C is used to boost immune function, while the vitamin B12 is included to assist your body with energy production. However, we are concerned that this energy boosting product does have some artificial components.
Daily Serving
The suggested dosage of this dietary supplement is to take one to three scoops with cold water or juice. It should be consumed half an hour before a workout and only be used on days when the user is training. First-time users should only take a single scoop. It is advised that you should seek the advice from your doctor before use. Particularly if you suffer from or are aware of any pre-existing medical condition. This product is not suitable for use if breastfeeding or pregnant and should not be taken by under 18's
The manufacturer also states that the user will assume all risk and consequences associated with the use of SuperPump MAX.
The Cost
Currently, you are able to purchase this workout supplement online from the manufacturer's website for $64.99. There are no special offers or discounts on offer for this product at present time. This price is considerable than other similar endurance supplements currently available on the market.
Guarantee
After conducting our research on the manufacturer's website we were unable to find any information on a satisfaction guarantee. This leads us to question the effectiveness of SuperPump MAX.
Our Review Summary Of SuperPump MAX
To conclude our review of SuperPump MAX, we did like that this product included effective ingredients - which aligns with the manufacturers promise of not including cheap alternatives. Unfortunately, apart from its key ingredients, there was no indication to the exact volume of ingredients in the proprietary blend. The use of this fitness supplement also only seemed fit for use by athletes or top-performing healthy individuals, not the average person. This together with the lack of guarantee has led us to deduce that there are more beneficial energy boosters and pre-workouts available.
Well researched reviews, from the experts at Research & You.