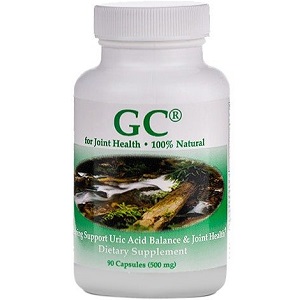 GC Herbal Blend Gout Care - Does It Work?-Review
What is GC Herbal Blend Gout Care?
Today we review a supplement called GC Herbal Blend Gout Care. This product claims to control the build-up of Uric Acid, thereby stopping the formation of Uric Acid crystals that cause joint pain and inflammation.  This product also supports healthy digestive health and lowers your cholesterol. It may also lower the glucose levels of type two diabetics and help to detoxify your liver. If you regularly struggle with gout flare-ups and this product seems interesting to you, read the rest of our review below.
Ingredients & How It Works
Yucca Stalk
Aged Garlic
Artichoke Powder
Milk Thistle
Turmeric Powder
Gelatin
Magnesium Stearate
Silicon Dioxide
This product contains no corn, wheat, yeast, preservatives or dyes. Turmeric is known as a natural anti-inflammatory and antioxidant that helps to prevent the progression of joint diseases and kill off infections. Milk Thistle helps to detoxify and regenerate the liver, meaning you will be able to get rid of more harmful and toxic substances in your body and metabolize Uric Acid faster. Yucca has ammonia-binding abilities that can help to reduce the amount of Uric Acid that your body produces. Artichoke Powder increases the bile production in the liver and aids the digestive process.
Daily Serving
It is recommended that you take 3 to 4 capsules per day. The supplements should be consumed at different times during the day to ensure uric acid balance and inflammatory control. You can take the capsules with or without food. If you are experiencing severe gout symptoms it is advised that you combine this supplement with a cleansing diet for at least 5 days for fast and effective relief.
The Cost
You can purchase this product directly from the manufacturer. One bottle will cost you $22.95. Three bottles will cost you $66.00 and six bottles will cost you $126.00. Each bottle contains 90 gelatin capsules so it will last you about a month. Shipping costs vary from $5.50 to $56.95 depending on where you stay and your choice of shipping duration.
Guarantee
The product comes with a 100 day 100% money-back guarantee. They will return all your money directly for any unopened bottle during the 3-month time frame and will charge a 20% restocking fee for any opened bottle. This guarantee is not offered to repeat customers who have bought the product before.
Our Review Summary Of Gout Care
We like that this product helps to alleviate the symptoms and stress that comes along with gout by offering a natural product that helps to reduce the levels of Uric Acid in the body. This product is also beneficial to those suffering from high cholesterol and it helps to keep your liver healthy, so it aids overall health. The 100-day guarantee is also helpful for new customers wishing to test out this product. However, it is a shame that the guarantee includes a 20% restocking fee on opened bottles. This means that you don't get all your money back, so customers should take note of that before investing into this product. This product could also take a while to truly work, hence the 3-month guarantee policy, so you might not experience immediate relief. There is also no guarantee that your symptoms will not come back if you stop using this product, so it's not a permanent solution
Well researched reviews, from the experts at Research & You.