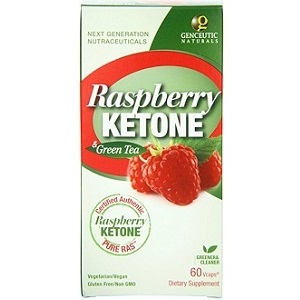 Genceutic Naturals Pure Ras - Does It Work?-Review
What is Genceutic Naturals Pure Ras?
The following review is about a supplement called Genceutic Naturals Pure Ras Raspberry Ketone with Green Tea, which is designed to promote weight loss, by increasing metabolism, energy and the breakdown of fats in the body.
Ingredients & How It Works
Raspberry Ketones
Decaffeinated Green Tea
Raspberries and Green Tea naturally supply many biologically active compounds which have been known to be highly beneficial to your health. They help support healthy weight maintenance by promoting fat metabolism and increased energy. Decaffeinating the green tea makes it free from the compounds that cause side effect such as insomnia, accelerated heart rate, restlessness, nervousness, et cetera. However, the downside is that caffeine plays a role in promoting weight loss because it improves energy and metabolism. Its absence could compromise the effectiveness of this supplement in terms of weight loss.
Daily Serving
The manufacturer suggests a dose of 1 capsule once or twice a day. For maximum results, use the supplement for 10 weeks in conjunction with a calorie-controlled diet and exercise program. You also need to drink 8 to 10 glasses of water daily.
It is not explained when to take one or when to take two capsules. This is not good because a customer could take one capsule while they are supposed to take two, or vice versa.
We notice that the amount of Green Tea (300mg) is more than the amount of Raspberry Ketone (200mg), which is weird considering that the product is called Raspberry Ketone, and not Green Tea.
The Cost
The price of the Pure Ras Raspberry Ketone with Green Tea Bonus Pack is $34.99 when purchasing it directly through the manufacturer's website.
Guarantee
There is no information shared about the money-back guarantee. When we clicked where there is supposed to be information about returns, we only found a form that a customer needs to fill in if they want to return a product. It is not stated if you are allowed or not to return it if you are unsatisfied.
Our Review Summary Of Genceutic Naturals Pure Ras
Genceutic Naturals Pure Ras Raspberry Ketone with Green Tea could be an effective supplement for weight loss. Both ingredients contained in it are natural. Its green tea is decaffeinated, which is good for health, considering the bad effects of caffeine in the body. However, when it comes to weight loss, caffeine plays a role in increasing metabolism and energy. Therefore, we worry that it might be less effective since the caffeine has been removed from this product. We also do not like that the price is very high. It is almost double the price of similar products on the market, which means that you are actually paying for both boxes, even though the manufacturer states that you buy one and get one free. Another concern is what if the product does not work for you? Then you would have bought the two boxes for nothing because there is not even a money-back guarantee. Buying this supplement is a risk for the customer and a gain for the manufacturer.
Rather look for a product that costs less, with clear usage instructions, and one with a money-back guarantee. 
Well researched reviews, from the experts at Research & You.