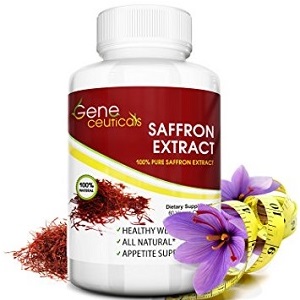 Geneceuticals Saffron Extract - Does It Work?-Review
What is Geneceuticals Saffron Extract?
Today we will review Geneceuticals Saffron Extract. Saffron is a red spice claimed by the manufacturer to be an appetite suppressant and mood booster. They also claim that it aids in supporting healthy weight loss as it may help prevent emotional eating. To learn more about Geneceuticals Saffron Extract and how it works, read our review below.
Ingredients & How It Works
Saffron Extract
Vegetable Cellulose
MCC
Magnesium Stearate
Silica
The only active ingredients found in Geneceuticals Saffron Extract is 88.25 mg Saffron Extract per capsule. The capsules are made from vegetarian cellulose and can be used by vegetarians.
Daily Serving
The manufacturer recommends taking 1 capsule daily with an 8 oz. glass of water. It is best to take Geneceuticals Saffron Extract 30 minutes before your morning meal. You can also consult your healthcare professional for advice on when to take the capsule. They state that this supplement is very potent and should not exceed the recommended dosage in any 24-hour period. The manufacturer also advices one to consult their healthcare professional if they are pregnant, nursing, on medication or under the age of 18.
The Cost
Geneceuticals Saffron Extract can only be purchased online from Amazon. The product is however currently unavailable and we did not find any evidence of a price for the product. Customers who consider purchasing this product might look for an alternative if they are unable to find the price of the product and if it is unavailable.
Guarantee
Geneceuticals Saffron Extract offers a full refund on all products, no questions asked. If you are unsatisfied with the product and the results of the product, you can just return it. This leaves the risk in the hands of the manufacturer. There is however no indication to the period of time one has to return the product, which indicates a very weak guarantee.
Our Review Summary of Geneceuticals Saffron Extract
There are some things to like about Geneceuticals Saffron Extract. It comes with clear instructions on how to use it and can be taken as one easy to swallow capsule. The concerns we have about this product are however much greater. There is no indication to what the ingredients can do for you and very little information to why one should use it. Geneceuticals Saffron Extract can only be purchased from Amazon, however, it is currently unavailable for purchasing. On top of that there is no price made available. Potential customers will not consider purchasing a product if they have no clue as to how much it will cost them. Another concern that we have is that even though the manufacturer offers a money-back guarantee, it is a very weak policy. This is because there is no period of time given when the product must be returned for a full refund. Potential customers will look for an alternative product which has a stronger guarantee and where they are certain that the risk will lie with the manufacturer. It is also unfortunate that the customer reviews on Amazon indicates that the product does not work. Due to these concerning reasons we are unable to recommend Geneceuticals Saffron Extract.
Well researched reviews, from the experts at Research & You.