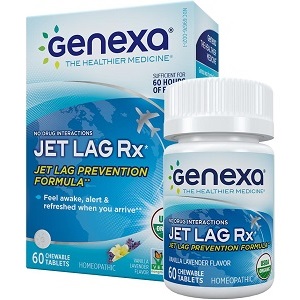 Genexa Health Jet Lag Rx - Does It Work?-Review
What is Genexa Health Jet Lag Rx?
This review is for a homeopathic remedy called Genexa Health Jet Lag Rx. The product aims to make travel easier by preventing jet lag from occurring. The manufacturer claims that this product is used to treat symptoms such as fatigue, mood changes, sleeplessness, early waking, loss of appetite, nausea, and sluggishness. Keep on reading to see what ingredients are found in Genexa Health Jet Lag Rx and how it works. Read our full review below.
Ingredients & How It Works
Arnica montana
Cinchona officinalis
Cocculus indicus
Coffee cruda
Tabacum
Genexa Health Jet Lag Rx contains 5 ingredients that help fight symptoms that are associated with travels across multiple time zones. We are rather concerned about the fact that the product does not contain L-ornithine. This essential ingredient helps promote quality sleep due to fatigue and also relieves stress due to the journey. The product also lacks a dual-action solution that helps relieve stress and allows one's body to feel balanced upon arrival.
Daily Serving
The manufacturer provides clear instructions for children between the ages of 3 and 11 as well as for children from the age of 12 and adults. For adults, chew 2 tablets on each takeoff, followed by two tablets about every 4-hours, and another 2 tablets upon landing. Intervals of up to 5-hours between tablets are acceptable if sleeping. The tablets must not be swallowed. Children between the ages of 3 and 11 must take half the dosage indicated above.
The Cost
Genexa Health Jet Lag Rx can be purchased online from the manufacturer's website. A bottle of 60 chewable tablets will cost $16.99. The manufacturer does not offer discount or bulk packages for purchase.
Guarantee
If you are not completely satisfied with the purchase you have made, then you will be refunded the full price. Product must be returned within 30-days of purchase. A short explanation is also requested. The only problem we see here is that the manufacturer does not specify the condition the product must be in upon returning it. This may lead to complications between first time customers and the manufacturer. You are better off choosing a product with a solid guarantee.
Our Review Summary Of Genexa Health Jet Lag Rx
After our review of Genexa Health Jet Lag Rx, we have found a few things that we like about the product. The manufacturer has provided the user with very clear instructions on when and how it should be taken. It also provides clear instructions for the different age groups.
There are many more things that we do not like about the product. Firstly, it does not contain an essential ingredient that helps relieve stress during the journey and promotes quality sleep. This ingredient is known as L-ornithine. Furthermore, the product does not provide a dual-action solution. Furthermore, the manufacturer does not offer discount or bulk packages for purchase. Finally, the manufacturer offers a very weak money-back guarantee that may leave the customer at risk. We do not recommend the use of Genexa Health Jet Lag Rx as we believe it is not effective.
Well researched reviews, from the experts at Research & You.