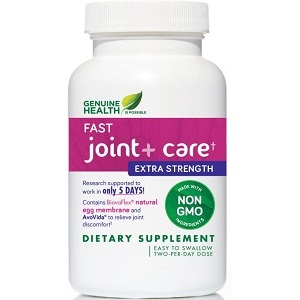 Genuine Health Fast Joint Care Extra Strength - Does It Work?-Review
What is Genuine Health Fast Joint Care Extra Strength?
Read our Fast Joint+ Care Extra Strength (as known as Fast Joint+ Care Extra Strength) review below. This product is produced by the company Genuine Health. More so, it is claimed by this manufacturer that this health product can offer fast relief from joint discomfort and pain, and that it can assist with rebuilding joint cartilage as well as providing the key nutrients needed for repairing joints. Furthermore, it is claimed that this dietary supplement product will enhance mobility, this as inflammation decreases.
Ingredients & How It Works
The ingredient in this formula are there to provide the tissues with the nutrients that allow for elastic tension, but also the ability to resume its form after stretching. Plus, this formula offers protein that allows for tissue repair, immune function and cellular differentiation. Lastly, this formula offers type I collagen which is important as it helps to enhance the production of glycosaminoglycan, to decrease joint inflammation and to normalize type II collagen production.
Daily Serving
The manufacturer's recommendation is that two capsules should be taken daily. No mention is made whether these capsules should be taken with or without food, or if the capsules should be taken together in the morning or in the evening, or if they should be taken on in the morning and one in the evening.
The Cost
A bottle containing 60 capsules costs $34.99. This is a discounted price as the original price as listed on the company's website was $39.95. No package deals are offered though.
Guarantee
To qualify for the manufacturer's 30-day money-back guarantee, a consumer will need to 1) complete the return form application and send that back to the company, 2) only send back unopened bottles, 3) ensure that the bottles are in perfect condition, and 4) not send the bottles back after the expiry date or after 30-days of purchase.
Our Review Summary Of Fast Joint+ Care Extra Strength
There are a few things that is rather positive about this dietary supplement. Firstly there is a manufacturer's guarantee on this product, secondly there are no free trial options or autoship programs. These sales tactics keeps on billing the consumer while their credit card is being deducted after the free trial period has needed. Still, these programs are difficult to cancel, and border on scams. That said, there are some problems with this product that should also be mentioned. Firstly, the guarantee does not allow a buyer to test the product and it has to be returned as new, within 30-days. Plus, the maker does not offer any package deals which would have made this product more economical in the long run. Lastly, the dosage instructions are vague: not providing the end user with precise details how to use it for optimal results. As such, with so many similar type of supplements on the market, offering better value, allowing a consumer to test it, and offer clear dosage instruction, it might be best to look at one of those dietary supplements.
Well researched reviews, from the experts at Research & You.