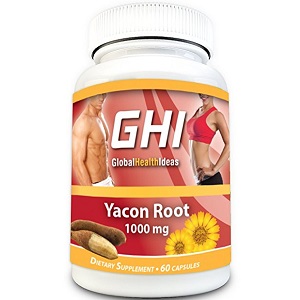 GHI Yacon Root - Does It Work?-Review
What is GHI Yacon Root?
There is unquestionably a lot of hype about Yacon Root.  And so today we are reviewing GHI Yacon Root, a supplement that helps suppress your appetite and aids with constipation and decreases body fat. The supplement comes in a capsule form and also has the benefit of increasing the number of healthy bacteria in the colon and in absorbing magnesium, calcium, and vitamins.
Ingredients & How It Works
Primary Ingredient:
Yacon Root (Smallanthus Sonchifolius)
Other Ingredients:
Gelatin

Magnesium Stearate

Dicalcium Phosphate
Yacon Root is a plant native to Peru. As one of the best dietary sources of fructooligosaccharides (FOS), it is the main component that aids in weight loss and in increasing the number of healthy, digestive bacteria in the colon while reducing the population of harmful bacteria. FOS is also believed to decrease your appetite and boost your metabolism. GHI Yacon Root has 500 mg of Yacon Root extract in each capsule.  At two capsules per day, the daily total is only 1000 mg.  This is notably less than other Yacon Root capsules which contain as much as 800 mg for a daily total of 1600mg of Yacon Root.
We were disappointed to see that the product claims to be vegan-friendly but with gelatin in the ingredients, that's clearly not the case.  Also, other Yacon Root products manufacture a 100% pure Yacon extract with no additional ingredients ensuring that it is, in fact, actually vegetarian/vegan. Finally, there are other products on the market that only contain 100% Yacon extract with a 50% concentration of FOS, with no added fillers or binders.  These products, therefore, set themselves apart from GHI Yacon Root which has the added gelatin and phosphates.
Daily Serving
The product label states to take one capsule twice daily about thirty minutes before meals with approximately 8 ounces of water.  Do not exceed recommended dose.
Women who are pregnant and/or nursing, individuals under medical supervision, and children under the age of 18 should consult their doctor before using this product.
The Cost
We did extensive research but at the end of the day, we simply were not able to determine the cost online since the product was not available.  There was no indication as to when the product would be back again and available for purchase.
Guarantee
The manufacturer states that they offer a 100% money back guarantee and that customers who are not satisfied will be refunded.  But no other information is provided to indicate the process that one needs to go through to be issued a refund if unsatisfied.  We strongly advise that you contact the manufacturer's customer service for clarification about the policy.
Our Review Summary Of GHI Yacon Root
GMP certified, made in the USA, GHI Yacon Root is a good weight loss aid. But the product does not have reviewers testifying to it being effective and worthwhile which sets itself apart from other Yacon Root products where customer testimonies are noteworthy. Furthermore, the manufacturer claims to offer a 100% money-back guarantee but gives no specific information about the terms and conditions. For these reasons, we are hesitant to give this product any type of overall seal of approval. You are better off purchasing Yacon Root with positive consumer feedback and a strong and straightforward manufacturer's guarantee.
Well researched reviews, from the experts at Research & You.