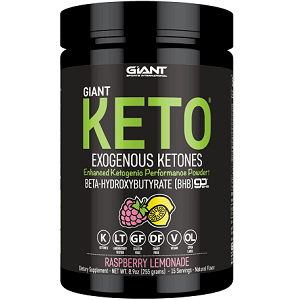 Giant Sports International Giant Keto - Does It Work?-Review
What is Giant Sports International Giant Keto?
Read our review below of the supplement Giant Keto, manufactured by giant Sports International. The supplement is claimed that this product is a ketogenic metabolism booster, which help to burn body fat, and boost ketosis. More so, this product is claimed to boost physical performance, energy as well as mental focus. Keep on reading our review about this weight loss product for more.
Ingredients & How It Works
One scoop provide:
Vitamin A (250 mcg)
Vitamin C (600 mg)
Vitamin D (125 mcg)
Vitamin K (600 mcg)
Vitamin B6 (5 mg)
Vitamin B12 (100 mcg)
Calcium (1080 mg)
Magnesium (69 mg)
Selenium (100 mcg)
Potassium (100 mg)
Sodium (844 mg)
Beta-Hydroxybutyrate blend (12 g)
Calcium beta-hydroxybutyrate (6.51 g)
Sodium beta-hydroxybutyrate (4.66 g)
Magnesium beta-hydroxybutyrate (0.82 g)
L-Carnitine L-Tartrate (500 mg)
Other ingredients: citric acid, natural flavors, malic acid, stevia rebaudiana leaf extract, silica, vegetable juice color (beet).
Calcium Beta-Hydroxybutyrate not only provides a boost of energy, it also helps to speed up metabolism. This substance has also been linked to fighting off oxidative stress, increasing lifespan, preventing bone deterioration and optimizing heart function. Magnesium helps to reduce stress and anxiety, but also aids digestion, while relieving constipation. Magnesium helps with the absorption of calcium for stronger bones.
Daily Serving
The manufacturer suggest to use a shaker cup, to which add one (1) level scoop with 12 to 16 ounces of cold water. Then shake well for 5-10 seconds, and then you can drink it. In addition, the maker of this product suggest that on training days, this product should be used 15-60 minutes prior to your training session. If you aren't going to train use this product in the morning 30-60 minutes after breakfast. A second serving may be taken daily after eating food that contains carbohydrates or to boost or preserve your fat burning metabolism.
The Cost
One bottle of Giant Keto is available on the manufacturer's website at $34.99. There are different flavor options: raspberry lemonade, orange mango, or maui punch. There are no package deals or discounts provided by the manufacturer.
Guarantee
The manufacturer of this supplement provides a 100% satisfaction guarantee on this product. If not satisfied, at any time, buyers may return it for a full refund. No questions will be asked. Just return the used bottle with the sales receipt for a refund.
Our Review Summary Of Giant Keto
The supplement Giant Keto appears a worthwhile product. The business claims to offer a full money-back guarantee, with dosage instructions clear and easy to comprehend. Consumers are in no doubt about dosage for optimal results. That said, there are some concerns about this dietary supplement. The maker of this supplement does not offer any discounts on bulk orders, which could have made this product easy on the pocket. Plus, the manufacturer of this dietary supplement product does warn that this product can be harmful. It should only be used by healthy adults, anyone that is not should not use this supplement.
Well researched reviews, from the experts at Research & You.