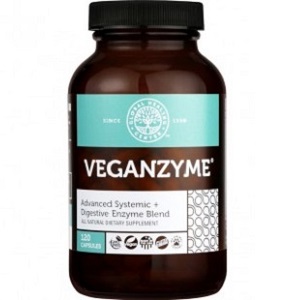 Global Healing Center VeganZyme - Does It Work?-Review
What is Global Healing Center VeganZyme?
VeganZyme is a daily supplement which focuses on providing digestive and immune support to those who suffer from digestive disorders such as IBS. the formula is said to use a blend of enzymes which help to provide symptomatic relief from bloating, gas or indigestion. It is also said to increase absorption to enhance the nutritional value of nutrients.
In this review of Global Healing Center VeganZyme, we look at the facts to see if this product lives up to its claims.
Ingredients & How It Works
VeganZyme (Proprietary Blend)
Protease
Amylase
Glucoamylase
Lactase
Cellulase I and II
Maltase
Hemicellulase
Xylanase
Beta Glucanase
Serrapeptase
Nattokinase
Bromelain
Papain
Alpha Galactosidase
Lipase
Catalase
Invertase
Pectinase
Phytase
Glucose Oxidase
The digestive enzymes in this formula help to break down fruits, vegetables, grains, nuts, proteins, and fats. Bromelain has anti-inflammatory properties which could help with abdominal discomfort or pain. While this ingredient list seems to be adequate, we noticed that it lacks black pepper which is proven to enhance absorption and increases the bioavailability of nutrients. We are disappointed to have discovered this because this product claims to enhance absorption but does not contain any of these supporting ingredients.
Daily Serving
Global Healing Center recommends taking 2 capsules a day. For digestive support, the capsules should be taken after the first bite of a meal and for overall systematic support, it's best to take the capsules 30 minutes before or 2 hours after a meal with water.
The Cost
Each bottle contains 120 capsules which retail for $49.59 inclusive of shipping anywhere in the US or Canada online. This product can be purchased directly from the manufacturer or via third-party suppliers. Unfortunately, we were unable to find any discounts or bulk purchase options available for this product.
Guarantee
VeganZyme is covered by a satisfaction guarantee of 180-days. The manufacturer will also cover the shipping costs that are payable upon return. Fortunately, this also applies to products that have already been opened.
Our Review Summary Of Global Healing Center VeganZyme
After analyzing the product, it seems to be an adequate product that will aid in digestive health. We also like that the guarantee policy offers a sufficient amount of time in which to return the product. Our concern is that the manufacturer claims that this product aids in absorption and enhances the nutritional value of nutrients, however, we were unable to find any supporting ingredients like black pepper. While the reviews from end users are mixed, we found some that had mentioned the product made symptoms worse and was not effective at all. We are also disappointed that the manufacturer does not offer any discounts or bulk purchase options that make this product more affordable. 
Well researched reviews, from the experts at Research & You.