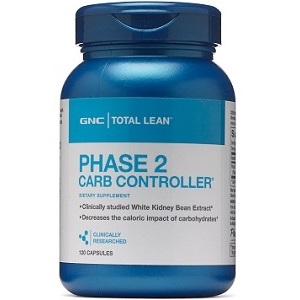 GNC Live Well Phase 2 Carb Controller - Does it Work?-Review
What is GNC Live Well Phase 2 Carb Controller?
This is a review about GNC Live Well Phase 2 Carb Controller, formulated by the manufacturer which is said to decrease the caloric impact of carbohydrate-rich foods such as bread and pasta. the manufacturer has not gone into much detail about the benefits of this product or how it will help consumers to lose weight. 
Continue reading our review below to find out the facts you need to know about this product.
Ingredients & How it Works
Key Ingredient:
White Kidney Bean Extract
White Kidney Bean Extract is known to act as a starch blocker inhibits the amylase which turns the starch consumed into sugar which may then be absorbed.

As per clinical/scientific research and to provide effective results, Chromium (used for weight loss, to increase muscle, and decrease body fat, improve athletic performance, to increase energy, and to prevent age-related mental decline), and Chitosan (used to treat obesity, high cholesterol, and Crohn's disease including, anemia, loss of strength and appetite, and insomnia) should be included in the ingredients.

Other Ingredients:
Gelatin
Cellulose
Stearic Acid Vegetable Source
Magnesium Stearate Vegetable Source
Titanium Dioxide
Natural Mineral Whitener
Cellulose is used as an excipient in the pharmaceutical industry. Vegetable stearic acid
Is used as an emulsifying agent, solubilizing agent, tablet and capsule lubricant. Vegetable magnesium stearate is used as an anti-caking agent adsorbent disintegrant or glidant to allow powder to flow freely when tablets are manufactured.

Magnesium Stearate poses as a contaminant and may impede nutrient absorption.

It has been proven clinically that there be no artificial ingredients present in the formula, as it might hinder results.
Daily Serving
The recommended daily serving is to take one serving twice daily prior to meals (containing starchy foods).

The recommended daily serving might be an overdose, the clinically recommended daily serving is 500 mg twice daily.
The Cost
The price of a container of 120 capsules is $19.99 available online through the manufacturer's website as well as third-party retailers.
The manufacturer does offer promotional prices such as buy 2 and get 1 free.
Guarantee
The consumer is assured of a 30-day money back guarantee. If the consumer is not satisfied with the purchase it may be returned even if it has been used, for a full refund (minus shipping, handling, and gift wrap charges).
Our Review Summary of GNC Live Well Phase 2 Carb Controller
This product does offer the consumer a good guarantee and it seems to be affordable and easily obtainable to the consumer. However, due to the facts that there are clinically proven key ingredients lacking in this supplement, there are artificial ingredients in the supplement which may hinder results, and the recommended daily serving is much higher than specified by clinical studies, do we find that this product might be ineffective and may cause an overdose. The fact that the manufacturer does not bother to list the benefits or educate the consumer about how this product actually works is another downside. manufacturers should take the effort to explain to its potential customers why this product stands out from the rest.
Well researched reviews, from the experts at Research & You.