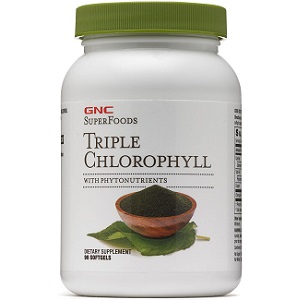 GNC Triple Chlorophyll - Does It Work?-Review
What is GNC Triple Chlorophyll?
Today we are reviewing GNC Triple Chlorophyll, a chlorophyll product with phytonutrients that has no artificial flavors or preservatives and is wheat and gluten free.  It is widely understood that malodors in the body and breath are caused by issues that reflect beyond a person's daily hygiene routine. Toxins within your system are excreted from your body in bad odors.  The manufacturer, however, has not chosen to describe anywhere what Chlorophyll Complex is designed to do or accomplish and why a person would choose this product to buy.
Ingredients & How It Works
GNC Triple Chlorophyll contains the following main ingredients:
Chlorophyll Complex - 60 mg

Copper - 2 mg
Inactive ingredients include:
Soybean Oil

Gelatin

Glycerin

Titanium Dioxide (Natural Mineral Whitener)
Chlorophyll is a type of plant pigment that has both strong antioxidant and anticancer effects.  It also is an antibacterial and anti-inflammatory. It detoxifies and cleanses your system from toxins that are the most common causes of persistent body odor and bad breath.  We presume that this product is supposed to cleanse and detoxify your body from odor-causing toxins. However, if that's the case, the ingredient list seems to be missing key items including probiotics for regulating and balancing pH levels and healthy bacteria in the stomach, as well green tea, peppermint, fennel, and magnolia.
This product has no sugar, starch, artificial colors, artificial flavors, preservatives, wheat, gluten, corn, dairy or yeast.
Daily Serving
The recommended dosage is one softgel capsule daily with the warning not to exceed this dosage.  If pregnant, nursing, or taking medications and with a medical condition, contact your physician before using this product. Discontinue using this product two weeks before surgery.  
The Cost
GNC Triple Chlorophyll can be purchased for the same price from both the manufacturer and third party sites: a bottle of 90 softgels for $11.99. Discounts on the manufacturer's website are available for 10% if you set up an automatic purchase plan for the supplement.  Select countries are available for international shipping of this product.
Guarantee
The manufacturer offers a money back guarantee on both open and unopened products for 30 days only.  This, in our estimation, is not enough time to fully try out a product.  It is curious to us why the guarantee is not for a longer period of time which is more common for manufacturers at this point who want to allow their consumers more time.
Our Review Summary of GNC Triple Chlorophyll
A complex softgel capsule, GNC Triple Chlorophyll is sold at a reasonable price.  However, we were fairly surprised about a number of items in connection with this product:  first, both the manufacturer's website and third party websites and the product label itself have no information answering the "why" a person would purchase this product.  There is literally no explanation what this product is designed to be used for. Second and probably not surprisingly, there are few reviews about this product and the reviews that are written by consumers are not great at all.  This may because each capsule has only 60 mg whereas other products have more chlorophyll and other ingredients.  But we cannot recommend a product where the manufacturer has not even taken the time to describe the product and its designed use.
Well researched reviews, from the experts at Research & You.