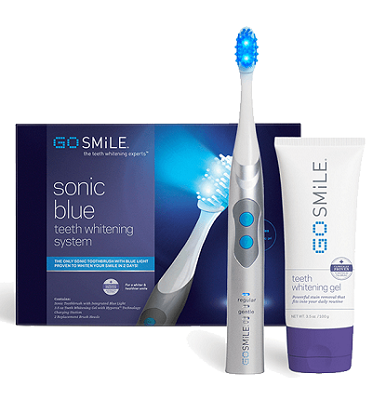 Go Smile-Review
Go Smile is yet another product, in a crowded market for teeth whitening systems, that's sold on the Internet as well as in supermarkets and grocery stores. With more and more people seeking whiter teeth in a society in which people are becoming increasingly conscious about their appearance, Go Smile has made its presence felt by employing a savvy marketing campaign.
About the Product
Technology has enabled companies to offer professional strength teeth whitening systems to end users for use at home as DIY products. Go Smile belongs to this category. This powerful system is a combination of a whitening gel and an accompanying light that can rival the expensive treatment you would receive at a dentist's.
How it Works
Go Smile promises to rid your teeth of even the darkest stains, with its latest system, all within an hour. The company also uses the conventional marketing ploy of "before" and "after" pictures of purported users who have employed the company's system with successful results. The company positions the product as a quality offering aimed at an upscale marketing segment, and accordingly, the system is available at Sephora. The company has a suite of products and the latest offering is more expensively priced than the rest of the company's product range. That also works to create hype about the latest system as being technologically superior. However, the reviews by real users are no different for this product as for the others.
How Much it Costs
You can expect to pay a different price depending on what you choose to buy from the company's suite of products. While the Go All Out system sells for $120, the lighting system for use at home -- that employs lights similar to the ones you would normally see at a dentist's -- is more expensive and carries a price tag of $200. The company charges $90 for a 7-day whitener, while a 12-day whitening system sells for $144. However, these prices are the maximum retail prices and you could hope to find these products for lower prices online.
How You Make it Work
All of Go Smile Products come with a specification as to the number of days it will take to see positive results. So there is a need to commit to staying the course for such duration of time. If you are not able to commit to this, you would be better off buying a one-off treatment product from another manufacturer. Alternatively, be prepared to spend premium dollars for Go Smile's most advanced product.
Final Review
The initial systems that Go Smile has introduced have white gel encapsulated in small vials, each with its own applicator. These are disposable vials whose contents (chemicals) are released together upon squeezing the vials; the chemicals then react to whiten your teeth. The current product being promoted by the company is an advanced system that has a light that you need to hold up to your teeth after you have applied the gel. The light causes the chemicals in the gel to be activated so as to give you whiter teeth in a relatively short span of time. Go Smile has several product offerings all of which are differently priced to suit the affordability of different target customers. As a result, you might find it hard to make up your mind as to which one you should buy for your personal use. The company has provided a comparison page on its website to help you make up your mind; the chart also details the symptoms that can be treated by each of its products. Despite the premium price that Go Smile commands and the wide range of products it offers to its customers, real user reviews are mixed and give the company an average rating. There are far too many reviewers, for comfort, who claim the product doesn't do what it's supposed to do. A high price tag by itself need not put off a potential buyer; what matters eventually is whether the product does what it claims it will do and fulfills the promise it makes to prospective users, and real user reviews should be largely positive, reflecting thereby that the company has delivered value for money. For the price, you're better off just going to your dentist for a professional whitening treatment with guaranteed results. Unless you're willing to invest in one of their kits that come with the at-home lighting system you should ignore Go White's offerings. Given the high price the product entails, your money would be better spent at a dentist's where you are likely to get guaranteed whitening of your teeth owing to a professional job well done.
Well researched reviews, from the experts at Research & You.