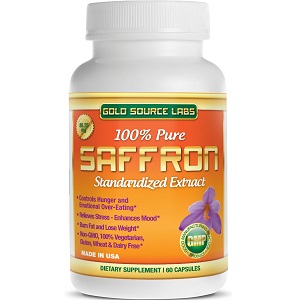 Gold Source Labs Saffron Extract - Does It Work?-Review
What is Gold Source Labs Saffron Extract?
The following review is for a product called Gold Source Labs Saffron Extract.  Saffron Extract is known for its ability to provide various health benefits. Its ability to target the factors that increase the feelings of hunger makes it a powerful remedy to use for weight loss. Gold Source Labs Saffron Extract works by increasing the amount of the neurotransmitter serotonin in the brain, an element that has a substantial effect on transferring hunger signals to the brain and controlling one's general mood. Increased serotonin helps avoid overindulging, especially mood-related binge-eating carbohydrates that have no nutritional value. The manufacturer claims that their Saffron Extract has been scientifically tested for concentration and effectiveness.
Ingredients & How It Works
Saffron Extract Safanal
Saffron powder
Saffron extract complex
The inactive ingredients are Rice Flour, Vegetable Cellulose, and Silica.
Saffron is an herb from a flower called Crocus Sativus, which is renowned for its remedial benefits over centuries. Gold Source Labs' Saffron Extract is a mixture of two different saffron extracts and saffron powder. Even though this may seem to be a good thing, binding the ingredients may compromise the effectiveness of a product.
Daily Serving
According to the manufacturer's website, the recommended dosage is two capsules per day. However, the information on the third-party retailer recommends that one capsule per day should be taken. This information is confusing, and not knowing the correct dosage is unsafe.
Through our research, we also found that effective supplements on the market contain 400mg of Saffron. This product, however only contains 88.25mg, which is too little to have an effect on the body.
The Cost
Gold Source Labs Saffron Extract is sold through a third-party online retailer. A bottle of 60 capsules is sold at  $17.97 excluding shipping charges. You get a discount if you purchase three or more bottles. You pay $16.29 for each bottle and you also get free shipping.
Guarantee
The manufacturer does not offer any money-back guarantee on their Saffron Extract, which raises concerns about the effectiveness of the product. If the manufacturer was confident on the product, they would not hesitate to offer a money-back guarantee should you be unsatisfied.
Our Review Summary of Gold Source Labs Saffron Extract
Saffron Extract is a powerful ingredient and it has been used as a remedy for many centuries to help manage a number of health issues. It also has the ability to suppress hunger feelings, which aid in weight loss. We did notice, however, that the saffron extract that is included in Gold Source Labs Saffron Extract is blended with other ingredients. Binding agents and additional ingredients have a negative impact on the effectiveness of the product. Moreover, the amount of the saffron extract in this product is very little compared to other effective products on the market.
There is also a confusion on the actual dosage, as the information on the manufacturer's website differs to the information on the third-party retailer's website. This is important information that consumers need to know before purchasing a product. Even worse, the manufacturer does not provide any guarantee. With all these downsides, we do not believe that Gold Source Labs Saffron Extract will help you. It is better to look for a product that has precise information, enough ingredients, and one that is supported by the manufacturer's guarantee.
Well researched reviews, from the experts at Research & You.