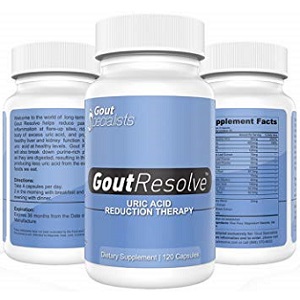 Gout Specialists Gout Resolve - Does It Work?-Review
What is Gout Specialists Gout Resolve?
Today we review the product Gout Resolve by Gout Specialists.  Gout is usually caused by crystals that form in the joints due to a high uric acid level in the body. This is a type of arthritis that can be very painful because it causes inflammation in the joint that can lead to swelling and tenderness. Gout Resolve claims to help you by reducing the amount of Uric Acid in the body which indirectly also supports healthy kidney and liver function. This formula also helps to break down Uric Acid crystals which will significantly reduce pain in the body. If you want to know more about this product, read the rest of our review below.
Ingredients & How It Works
B6
Folic Acid
Bromelain
Quercetin
Artichoke Leaf Extract
Thyme Leaf Powder
Celery Seed Powder
Yucca Root
Turmeric Root
Ginger
Milk Thistle
Alpha Lipoic Acid
Dandelion Root
Burdock Root
Proprietary Blend
Skullcap Extract
Passionflower Extract
Chamomile
Rice Flour
Magnesium Stearate
Gel Capsules
All of the various extracts like Turmeric, Skullcap and Ginger work in unison to promote the elimination of inflammation in the joints. Milk Thistle and Burdock Root helps to cleanse the body of harmful toxins whilst the Alpha Lipoic Acid helps to restore normal levels of Uric Acid in the body to prevent the formation of more crystals in the joints. Unfortunately, we could not determine what ingredients are in the Proprietary Blend, so there is no way of knowing if that blend is effective or not.  There are also a lot of additives in this product which could cause a delay in seeing results from this product. It is also not stated whether this product would be suitable for vegans and vegetarians.
Daily Serving
It is recommended that you take 2 tablets per day. It is recommended that you speak to your doctor before taking this supplement if you are pregnant, nursing or taking prescription medication for a serious medical condition.
The Cost
You can buy this product directly from the manufacturer's website. One bottle, which will last you about a month, costs $57, three bottles cost $111 and a 2-week trial is free. If you partake of the trial then you will automatically receive a 30-day supply at the discounted price of $37 per month. You can cancel monthly shipments at any time and shipping and handling costs will be an extra $6.97 with every delivery.
Guarantee
This product comes with a 100% money back guarantee that covers your most recent order. This guarantee is valid for up to 60 days after your purchase minus the cost of shipping and handling.
Our Review Summary Of Gout Resolve
We like that this product has such a great guarantee policy that covers you up to 60 days if you find the product did not work. We also like that this product has the option of automatic shipping and that you can get a free trial to test it out. However, this product is very expensive compared to similar products on the market and makes use of additives that can ultimately stunt the process of getting rid of gout.
Well researched reviews, from the experts at Research & You.