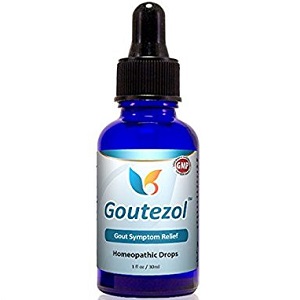 Goutezol - Does it Work?-Review
What is Goutezol?
Gout can really be an annoying problem if not handled properly and given the appropriate treatment. In this review, we present you the product called Goutezol by Smart Life Labs. Goutezol is homeopathic drops used to temporarily treat the different signs and symptoms of gout. This includes joint inflammation, tenderness, redness, swelling, itchiness and other foot and toe discomforts.
Ingredients & How it Works
Ammonium phosphoricum
Belladonna
Colchicum autumnale
Formicum acidum
Fraxinus excelsior
Ledum palustre
Natrum carbonicum
Nux vomica
Urtica urens
The ingredients used in this product are listed in the Homeopathic Pharmacopeia of the United States. The ingredients are a combination of different plants ( Belladona, Ledum Palustre) and substances (Ammonium phosphoricum, Formicum acidum) that aim to reduce signs and symptoms of gout such as inflammation, pain, stiffness and redness. However, it is very important to remember that these ingredients are a part of homeopathic medicine. This "alternative medicine" has not been known to prove its claims scientifically. Moreover, the product's website does not specify the quantity of these ingredients in Goutezol.
Daily Serving
The manufacturer's website does not provide any information about how to take this product. After some research, we found the instructions on Amazon. It is recommended for those above the age of 14 to take 10 drops of Goutezol three times a day. You should put the drops under your tongue and hold it for one minute.
The Cost
This product is available for an online purchase from the manufacturer's website for $37.95. If you purchase from the product's website, you will also get an ebook about Gout worth $19.99 for free. The manufacturer's website doesn't mention how long a single purchase of the product will last.
Guarantee
We found that this product comes with a 60-day money back guarantee. It is also very pleasing to know that the manufacturer will accept both used and unused bottles. Individuals who are not satisfied or didn't see any significant improvement within the given time period may simply return the unused portion and the company will then process your full refund including the shipping costs.
Our Review Summary of Goutezol
It's good to know that the product comes with a solid form of guarantee considering that they allow individuals to return both used and unused items within 60 days of purchase. They also offer a free ebook about gout which might attract more potential buyers who want to know more about their condition. Still, the product uses ingredients that are not scientifically proven even today. It relies on homeopathic remedies that date back to the 1700s. It is also very important to remember that even the product states that this item will only provide temporary relief of gout symptoms. Judging from that statement, you be better off looking for another product.
Well researched reviews, from the experts at Research & You.