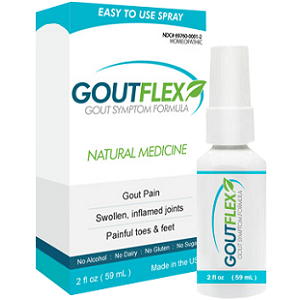 Goutflex - Does It Work?-Review
What is Goutflex?
The following is a review of the product Goutflex, a treatment for gout symptoms: The product has been formulated to treat symptoms associated with gout, a metabolic arthritis condition. The product claims to reduce pain, inflammation, and swelling, as well as discomfort, mostly in the toes, feet, heels, and joints. However, this product may also be used to treat cramps, and itchy and tender joints.
Ingredients & How It Works
Ammonium phosphoricum
Belladonna
Colchicum autumnale
Formicum acidum
Fraxinus excelsior
Ledum palustre
Natrum carbonicum
Nux vomica
Urtica urens
The inactive ingredients are citric acid, potassium sorbate and pure water
The ingredients work to relieve inflammation in the joints, as well as redness and tenderness. They also work to reduce sensitivity and joint discomfort, as well as swelling and itching.
Daily Serving: The manufacturer suggests that the pump be pressed until primed. One dose should be sprayed directly into the mouth. Adults may take up to four (4) sprays, twice daily. Every 12 hours, four sprays may be taken by mouth. The dose may be increased to a maximum of three times per day, if needed.
The Cost
A single bottle ( 2 fluid ounces or 59 ml) is available online, directly from the manufacturer, at $44.95. The company does offer a locked-in subscription service on which the same size bottle will cost 5% less ( $42.70). However, the consumer will receive one bottle each month, with their credit card deducted accordingly. Two other deals apply: an once-off buy-two-get-one-free deal at $89.00, and a subscription equivalent at $84.55.
Guarantee
Despite our efforts, no manufacturer's guarantee of any kind was found for this product. This does raise some concerns about the product's efficacy.
Our Review Summary Of Goutflex
The gout treatment Goutflex offers certain benefits, such as various package deals, including discounts on bulk orders. Over the long term, this can save money for the buyer. Also, dosage instructions are clear and easy to follow. The product will then be taken such that will best results are found. Notwithstanding these good points, our research discovered some concerns. The package deals include subscription services, which locks a buyer in. Exiting the service may be difficult. The lack of a guarantee is a concern; this product becomes risky for the consumer. This could be linked to the ingredients. This product contains none of the scientifically proven elements found effective in treating gout, such as tart cherry, folic acid, artichoke, garlic, yucca, milk thistle, turmeric, dandelion, or rutin. As such, it's better to opt for a supplement that is a total-care solution that addresses the physical symptoms of gout plus helps lower uric acid production to ensure prevention from future attacks. More so, one that provides 1500mg Tart Cherry Extract to help reduce the pain associated with gout, as well as lower uric acid levels to prevent future attacks. Plus, one that can increase diuretic effects to reduces Uric Acid buildup and accumulation, and still help to reduce inflammation and swelling to increase mobility, instead.
Well researched reviews, from the experts at Research & You.