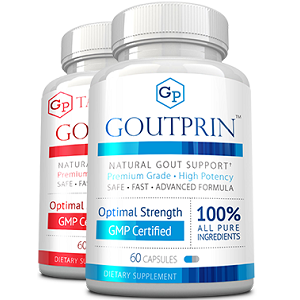 Goutprin - Does It Work?-Review
What is Goutprin?
This is a review of Goutprin which is a natural product designed to help remedy the uncomfortable symptoms of gout. Here our goal is to provide all the necessary details about the pros and cons of this product, which claims to be treating gout pain effectively while simultaneously promoting overall health. To check the results that we have found after our comprehensive examination, you are welcomed to proceed reading this review.
Ingredients & How It Works
Turmeric
Dandelion
Rutin
Folic Acid
Milk Thistle
Yucca Root
Garlic
Artichoke
Tart Cherry
After analyzing the ingredients in Goutprin, we've found that the combination of the ingredients is quite impressive. It consists of several of what most people like to call as superfoods. Most of the ingredients are anti-inflammatory and thus geared primarily to reduce pain and discomfort within the body as a result of high uric acid and gout in a relatively short period of time. That is of course in addition to, as it seems to us, treating the problem at its core, which is essentially what most people would consider as highly important. At the end of the day, we seek to eliminate problems for good and not just have temporary breaks from them. Lastly, what is really promising is that these are not just some artificially made components but rather all natural and pure ingredients of a strong potency.
Daily Serving
Each bottle consists of 60 capsules, and it is advised to take one capsule in the morning and one in the evening for optimal results. It is highly recommended not to exceed this dosage of 2 capsules a day, and pregnant or nursing mothers, children under 18, and individuals with known medical conditions should consult a physician before using this product.
The Cost
Concerning prices, there are several options offered by Goutprin. One bottle package will cost you $49.95. Two bottles package will cost you in total $69.90 making it $34.95 for each. Four bottles will cost you in total $111.80 making it $27.95 for each. Now, in case you want to purchase the maximum amount of bottles and enjoy a discount, you can utilize their last option which is a 6-bottle package that costs $139.80 in total, making it $23.9 for each. So, obviously, the more you buy, the less you need to spend for each bottle.
Additionally, by choosing any of the options listed above you make yourself eligible to get Goutprin Tart Cherry at a special price of $9.95 instead of $59.95.
Lastly, the company provided multiple ways to purchase its products for your convenience. You can use PayPal, Amazon and different credit cards such as Visa, MasterCard, American Express, etc.
Guarantee
In order to eliminate any risk for the buyer, Goutprin has a money back guarantee policy that gives you a 60-day trial period. If for whatever reason you'll decide during these 60 days that this product is not what you were hoping for, all that is required is just to return all the bottles you ordered, both used and unused, for a full refund (shipping, however, will not be included).
Our Review Summary Of Goutprin
We really couldn't find any disadvantages in using this product, especially after comparing it with other products that claim they treat gout effectively. So, we came to the conclusion that regardless of how skeptical you may be, there is no reason not to give Goutprin at least a try. That is especially true if you're already suffering from gout pain for quite some time.
Well researched reviews, from the experts at Research & You.