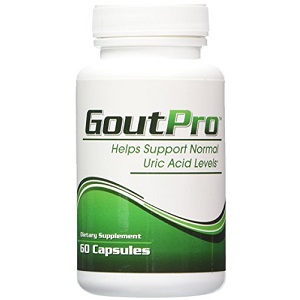 GoutPro - Does it Work?-Review
What is GoutPro?
Gout is a form of arthritis where your joints become red, swollen, hot and painful. This condition is caused by the over-accumulation of a certain substance in the body called uric acid. With over 5 million people affected worldwide, it is not so surprising that many anti-gout supplements appear on the market all the time.
In this review, we will talk about GoutPro and discuss all the available information about this product. GoutPro is a supplement that claims to normalize uric acid levels in the body. It claims to contain the necessary ingredients that are beneficial in maintaining healthy uric acid levels and also preventing gout attacks from happening in the future.
Ingredients & How it Works
Yucca Stalk
Aged Garlic
Artichoke Powder
Milk Thistle (Silymarin) Extract 80%
Turmeric Powder
This product consists of a herbal blend (500mg) of these different plants and herbs. Yucca Stalk contains natural pain killers that act as an analgesic to help combat and relieve pain. Artichoke, on the other hand, helps regulate the level of uric acid in the body so it doesn't build up and cause further gout attacks. The other ingredients act as an immune system booster and contain anti-inflammatory substances to reduce inflammation. One ingredient missing from this product, which is common in other gout supplements, is tart cherry extract which is known to reduce uric acid levels in the body.
Daily Serving
According to the product's own label, a serving size is one capsule. But after careful research, we could not find any other specifications about the product's dosage. The appropriate time, manner and other conditions on how an individual should take this product are not mentioned on the product's website.
The Cost
You can buy GoutPro online from the manufacturer's website for $24.97 per bottle containing 60 capsules. You can also opt to purchase three bottles for $74.97 and six bottles for $147. All purchases comes with free shipping fee and free priority shipping if you purchase the six-bottle package. You can also purchase this product on Amazon.
Guarantee
The manufacturer's website states that GoutPro comes with a 100% satisfaction guarantee and that you can return the product for a refund, no questions asked. However, there are no further details provided about this refund policy. You will have to contact the manufacturer to find out more information as the product's web page does not provide much information.
Our Review Summary of GoutPro
In conclusion, this product seems to address the main reason why people develop gout, which is an excess of uric acid in the body. It also seems to provide ingredients that will help manage pain and inflammation. It also comes with a reasonable price. Nonetheless, the product seems to lack a lot of information which makes a purchasing decision very difficult. For example, the product doesn't specify the exact daily dosage of this supplement and how it should be taken. It also does not contain the very beneficial ingredient, tart cherry extract. Furthermore, the details around the guarantee are very limited. We think you may be better off looking for a product that is more forthcoming with information.
Well researched reviews, from the experts at Research & You.