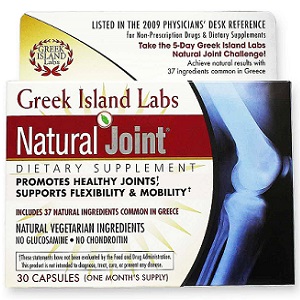 Greek Island Labs Natural Joint - Does It Work?-Review
What is Greek Island Labs Natural Joint?
Our Greek Island Labs Natural Joint review aims to assess the effectiveness of this product in regards to treating joint problems. According to the manufacturer, while other supplements that are used to treat joint problems cause various side effects to users; Natural Joint has incredible benefits without any unpalatable effects on your body. The manufacturer claims it is a single solution for all joints: hip joints, knee joints, elbow joints, neck and hand joints, and shoulder joints. It has no animal ingredients and contains no glucosamine and chondroitin.
Ingredients & How It Works
The manufacturer's website does not go into detail about the ingredients found in Greek Island Labs Natural Joint. However, after some research, we found it contains a 773mg blend of:
Avocado
Soybean
Red seaweed
Bromelain
Aspergillus oryzae
Aspergillus malleus
Rosemary
Holy basil
Green tea leaf extract
Grape seed extract
Tomato fruit concentrate
Olive leaf extract
Pomegranate fruit extract
Rosemary leaf
Pineapple
Brocolli
Carrot
Apple
Orange
Tomato
Brussel sprouts
Cauliflower
Beets
Blueberry
Celery
Grapes
Grapefruit
Kale
Hyaluronan
Lemon
Lime
Plum
Raspberry
Strawberry
Watermelon
Radish
Cantaloupe
Cherry
Leek
Syringa vulgaris extract
Onion
Papaya
Peach
Pear
The manufacturer has not explained why these ingredients have been chosen. They only specifically mention three on their website; pomegranate for its antioxidant properties, kale because of phytochemicals, and cherry to fight free radicals. However, these ingredients may not be enough to provide long-lasting relief to joint pain. There is a need to include glucosamine and chondroitin to attend to repairing cartilage.
Daily Serving
Take one capsule per day for joint pain relief. The manufacturer promises results in as little as five days. Before taking on any medication, remember to check with your doctor to find out if there is anything in your medical history that can result in adverse reactions with the supplement.
The Cost
You can purchase this product online from the manufacturer's website for $36.00 for a 30-day supply. This price represents a whopping 31% discount - its original price is $52.00. Besides, the manufacturer will offer you one free bottle if you purchase three bottles at once. You may also buy the supplement from other websites or retail stores.
Guarantee
This product comes with a 60-day money back guarantee should it fail to meet your expectations. You need to contact the manufacturer's customer care representative for directions on how to get your refund. Also, you will only qualify for a refund if you return the product within 60 days from the date of purchase. It is not clear if both open and closed bottles are accepted. The 60-day return period, however, may not be enough for one to assess the effectiveness of this product.
Our Review Summary of Greek Island Labs Natural Joint
Our review found this product to be potentially useful in the treatment of joint pain if its all-natural vegetable-based ingredients are anything to go by. As it is an all-natural product, it should have no side effects. It also seems to be suitable for vegetarians and the product claims to produce results in as few as five days. However, the website attempts to justify the omission of glucosamine from its ingredients by citing clinical trials pointing to the ineffectiveness of glucosamine. However, there are no details on how this product would treat cartilage damage that is a leading cause of joint pain.
Well researched reviews, from the experts at Research & You.