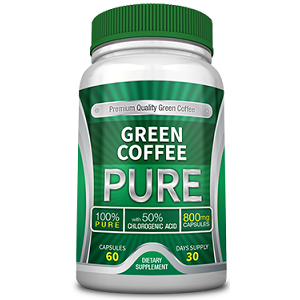 Green Coffee Pure - Does It Work?-Review
What is Green Coffee Pure? 
Green Coffee Pure is a weight loss supplement which purportedly helps you burn fat. According to the manufacturer, Green Coffee Pure sets itself apart by basing its compound on the same values for purity, strength, and dosage used in clinical studies that demonstrated its effectiveness in helping participants lose significant amounts of weight.
With no shortage of green coffee bean supplements available, today we report on our review of Green Coffee Pure, to provide you with the details you need to make a buying decision.
Ingredients & How It Works
Two capsules of Green Coffee Pure contains 1600 mg of green coffee bean extract with 50% Chlorogenic Acid (CGA). Other than the vegetable cellulose capsules, that is the only ingredient.
In human clinical studies, green coffee bean extract (in particular, its CGA) was said to curtail the quantity of carbs absorbed during digestion. Animal studies demonstrated that CGA reduced the absorption of consumed fat, as well as the quantity of liver fat. It was also suggested that it boosts the performance of adiponectin, a fat-burning hormone. Studies on rodents have also concluded that CGA substantially improved cholesterol levels.
The company notes that its product contains no fillers, binders or artificial ingredients.
Daily Serving 
The manufacturer recommends taking two capsules every day and, for best results, each should be taken with a glass of water 30 minutes before a meal.
Pregnant or nursing women and anyone with an existing medical condition as well as those under the age of 18 should not use this supplement without consulting a physician.
The Cost 
At the time of our review, you could buy Green Coffee Pure from the manufacturer's website. The "Sample" package of a single bottle (each bottle contains 60 capsules, a one-month supply) is sold for $49.95. The next step up in volume and down in price is the three bottle "Moderate" package which costs $33.30 per bottle. The "Best Value" plan consists of a six-bottle set with a price of $22.95 per unit. 
The company accepts major credit cards and Paypal.
Guarantee
No supplement will work for every individual out there, regardless of how pure or how potent it is. It's for this reason that a money-back guarantee can help tip the scales when a potential customer is considering buying a product for the first time. Green Coffee Pure appeals to anyone out there who hasn't tried it yet by offering a solid 60-day return and refund policy which includes accepting back both opened and unopened product. That gives first-time buyers plenty of time to test it out and see if it works for them, without financial risk.
Our Review Summary of Green Coffee Pure
Having put Green Coffee Pure through our review process we feel there are a number of things that recommend this product. First, it is produced in accordance with the properties of active ingredient used in a double-blind, placebo-controlled study whose results showed significant reductions in the body weight of participants. In addition, the money-back guarantee is a strong indicator of a company that both believes in the effectiveness of its product and in good customer relations. Finally, the fact that it is made in the USA in an FDA-registered facility under cGMP manufacturing restrictions attests to a concern for quality.
Well researched reviews, from the experts at Research & You.