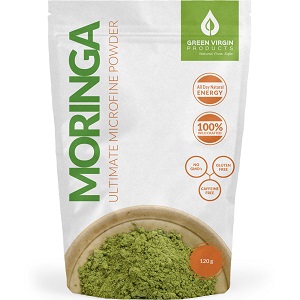 Green Virgin Products Moringa Ultimate Super Fine Powder - Does It Work?-Review
What is Green Virgin Products' Moringa Ultimate Super Fine Powder?
Read our review below about Moringa Ultimate Super Fine Powder by the manufacturer Green Virgin Products. Moringa Ultimate Super Fine Powder is a dietary supplement consisting of the Moringa Oleifera leaf. Moringa Oleifera is known to contain several nutrients, and is a super source of antioxidants. However, this manufacturer uses a novel method in the production and packaging of the supplement. The leaves are turned into super-fine powder, without oxidizing the Moringa. The company claims that the super-fine powder is therefore easier to digest, and as it is not oxidized, it offers more nutrients and antioxidants than do other Moringa supplements.
Ingredients & How It Works
This supplement only consists of 100% Moringa Oleifera leaf powder. The supplement provides nutrition to the body. Per 100 grams, this supplement is packed with:
Proteins (28.3g)
Fats, including essential amino acids, non-essential amino acids, and conditional amino acids (7.2g)
Carbohydrates (25.1g)
Dietary fibre (24.5g)
Energy (327Kcal)
Sodium (65.7g)
Iron (7.34mg)
Calcium (2.180mg)
Potassium (1.100mg)
Magnesium (483mg)
Zinc (2.90mg)
Vitamin A (3.060ug)
Alfa-Carotene (100ug)
Beta-Carotene (36.700ug)
Vitamin B1 (0.50mg)
Vitamin B2 (2.29mg)
Vitamin B6 (2.14mg)
Vitamin C (97mg)
Vitamin D
Vitamin E (84.2mg)
As well as several other trace elements of minerals and vitamins
Moringa is used to protect cells from damage. It is believed that the supplement can relieve arthritis, anaemia, constipation, high blood pressure, diarrheoa, kidney stones, thyroid problems, and may increase the production of breast milk in breastfeeding mothers.
Daily Serving
The manufacturer recommends, for a 150-pound person, a dosage of two grams daily. The manufacturers claim that the powder dissolves easily and may be added to juices, or smoothies. However, nursing mothers, or pregnant women, or those under medical supervision, should consult their doctors before taking this supplement.
The Cost
A 120-gram bag of Moringa Ultimate Super Fine Powder comprising 50 pouches, each weighing 2 grams, will cost you $42.99 to buy online. To qualify for the free shipping within the US offer, you would have to spend at least $50; otherwise, you will need to add a shipping fee to each purchase. The company does not offer any discounts on bulk sales.
Guarantee
The manufacturer does offer a 90-day money-back guarantee; however, unless the error was theirs, they will not pay the shipping fee. Even after thorough research, however, we could not find the terms and conditions of this guarantee.  This as it is unclear whether the return policy only applies to unopened items, or to opened items as well.
Our Review Summary Of Moringa Ultimate Super Fine Powder
During the production of the supplement, the Moringa is not oxidized, therefore there is a minimal loss of nutrients and antioxidants. The powder is also easily digested by the body. It may be added to smoothies and other drinks as a convenient way of taking it. There are certain issues, however. Firstly, the guarantee policy is unclear. To benefit from the free shipping within the US, you must buy more than one packet of this supplement. In addition, in terms of the ingredients, this supplement contains harmful saturated and trans-fatty acids, and it lacks an abundance of vitamin D. Therefore, if you do not expose yourself to 15 minutes of sun daily, or eat food delivering sufficient vitamin D, you will need to add another supplement containing vitamin D3, the active form of vitamin D.
Well researched reviews, from the experts at Research & You.