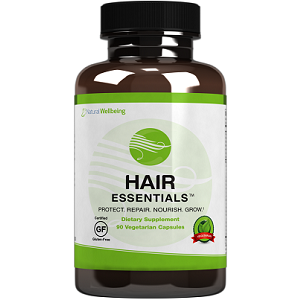 Hair Essentials - Does It Work?-Review
What is Hair Essentials?
Our review looks to ascertain the suitability of this product as the ultimate supplement for healthy hair. According to the manufacturer, it works for both men and women, and it will help you grow thicker, healthier and fuller hair on your head. It is claimed to be useful for all hair types and it is doctor-formulated. If you are having hair problems, ranging from thinning to breaking hair, Hair Essentials may be your solution.
Ingredients & How It Works
Vitamin A (100% as natural beta-carotene) - 5500 IU
Vitamin C (as calcium ascorbate) - 70mg
Vitamin E (as d-alpha tocopheryl succinate) - 35 IU
Biotin (as d-biotin) - 350mcg
Iodine (from kelp) - 155mcg
Zinc (as zinc amino acid chelate) - 15mg
Selenium (as selenium amino acid chelate) - 75mcg
Proprietary Hair Essential Blend - 1500mg
The Proprietary Blend contains:
Saw palmetto blend
Fo-Ti
MSM
Bu Gu Zhi
Han Lian Cao
L-Cysteine
L-Methionine
Bamboo extract
Horsetail extract
Borage oil
White Tea extract
Rice Bran
Milk Thistle
Flax Seed oil
Black Pepper
The ingredients that form part of the proprietary blend are known for their positive effects on hair growth. These ingredients improve circulation, manage hormone levels and contain antioxidants which are all beneficial for hair growth. Biotin is another ingredient well known for its benefits on improving the health of hair and nails. Vitamins A, C, and E combine to form potent antioxidants that protect cells from free-radical damage. They also help the body to maintain healthy skin, mucous membranes, and hair. Vitamin A reduces bacterial growth in the skin ducts, thus, reducing chances of skin inflammation.
Daily Serving
It is recommended to take three capsules a day with meals. You can take the capsules all at the same time or you can spread them out throughout the day by taking one capsule three times a day. If you experience difficulties swallowing the pills, pour out the capsule and mix with juice, honey, water or yogurt for easier consumption. Hair Essentials does not seem to have any serious adverse effects on users. This product may weaken the effectiveness of birth control pills or other hormonal medication so it is important to consult your doctor first. Women who are pregnant or nursing should not use this product.
The Cost
A one-time delivery from the manufacturer's website costs $39.99. Note that this is an already discounted price, down from $49.99. You may benefit from higher discounts by subscribing for three bottles. A subscription will earn a 25% discount and you will only pay $29.99 per bottle.
Guarantee
The manufacturer promises a 90-day hassle free return guarantee for this product should you find its performance to be below par. They will refund the entire purchase price less shipping costs. The manufacturer does not deduct restocking fees or any other hidden costs. However, you cannot ask for a refund before 30 days; they ask you to try the product for at least 30 days.
Our Review Summary of Hair Essentials
Hair Essentials seems to be suitable for the treatment of hair loss, thinning or shedding hair, as well as increasing new hair growth across the scalp. It contains many natural ingredients which boost its effectiveness. It also seems to have no serious side effects and it comes with a money-back guarantee. However, some people may experience difficulties swallowing the large capsules. It also seems to possibly affect hormonal medications which may lead to unwanted pregnancies as it reduces the effectiveness of birth control pills.
Well researched reviews, from the experts at Research & You.