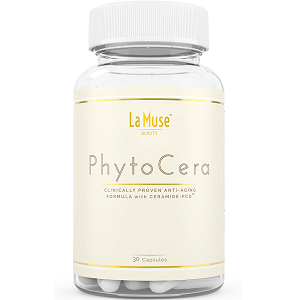 Hair La Vie PhytoCera - Does It Work?-Review
What is Hair La Vie PhytoCera?
This review is going to take a closer look at Hair La Vie PhytoCera in order to find out how it works and to see if it really does what it promises to do. PhytoCera is a dietary supplement that is made up of Phytoceramides and several key vitamins that are designed to improve your skin's overall condition to make it look younger, rejuvenated and hydrated. The manufacturer claims that this product can help nourish your skin with Phytoceramides that will promote tight, firm skin, healthy areas under your eyes with a lift, hydration, and the normalization of skin. Phytoceramides are ceramides that are derived from plants and are lipids in your skin that maintain hydration and keep your skin smooth. As you age, your body increasingly lowers its production of ceramides which is what causes wrinkles and fine lines to appear. This supplement offers a dosage of ceramides that are designed to be taken orally so that the Phtyoceramides can penetrate every level of the skin.
Ingredients & How It Works
Vitamin A - 5000 IU

Vitamin C - 60 mg

Vitamin D3 - 400 IU

Vitamin E - 30 IU

Ceramide - PCD - 40  mg
Other Ingredients: Long grain rice flour, L-leucine, vegetable cellulose.
Vitamin A influences the physiology of your skin by promoting epidermal differentiation, modulating dermal growth factors, inhibiting sebaceous gland activity and suppressing androgen formation. It is commonly taken to treat acne and psoriasis. Vitamin C regulates the structural protein collagen. A deficiency in Vitamin C can cause your skin to become rough. Vitamin D can destroy free radicals that cause premature aging. Vitamin E blocks free radicals that cause aging.
Daily Serving
The manufacturer recommends taking one PhytoCera capsule daily with a meal.
Talk to your doctor before taking this supplement If you are pregnant, nursing or under medical care.
The Cost
You can purchase this supplement directly from the manufacturer. One 30 capsule bottle costs $39.00. If you purchase a package of three bottles they offer free shipping and each bottle is reduced to $36.33 per bottle. You also have the option to purchase a package of six bottles for $33.17 per bottle with free shipping.
Guarantee
The manufacturer offers a 90-day 100% money-back guarantee on opened and unopened bottles.
Our Review Summary Of Hair La Vie PhytoCera
This product appears to be a promising tool that can help you achieve younger-looking skin. It comes in easy to take capsules for convenience and it contains four important vitamins in addition to Phytoceramides that have been widely recognized to improve the condition of your skin. However, there is very little information about this product available. The manufacturer does little to explain the risks and benefits of the supplement or offers any additional information that can help the consumer better understand their product to be able to make an informed decision. The consumer reviews we saw are mixed. On Hair La Vie's website there are only five-star reviews but after further digging, we found a multitude of negative consumer reviews from consumers who claimed that this product does not work. Taking these factors into consideration,  you are better off purchasing a Phytoceramide supplement that has consistently positive consumer reviews and more information so that you will be able to make an informed decision before choosing to purchase a product.
Well researched reviews, from the experts at Research & You.