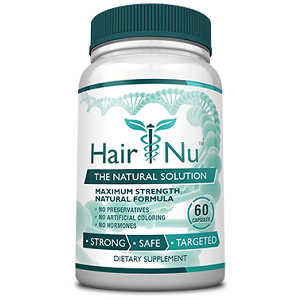 HairNu - Does it Work?-Review
What is HairNu?
Welcome to our review of the hair growth supplement HairNu, a natural hair loss solution. This product is a dietary supplement developed to help stimulate hair growth and manage hair loss using natural and relatively safe ingredients. If you want to learn more about this hair growth supplement just scroll down below for our review.
Ingredients & How it Works
This hair growth supplement uses a number of quality compounds that are known to help facilitate hair growth and enhance hair integrity. Each capsule contains a list of veritable hair growth vitamins and minerals.
Borage Oil
Silica
Methylsulfonylmethane (MSM)
L-Cysteine
L-Methionine
Selenium
The B Vitamin Complex
Tocopheryl Acetate
Iron
Copper
Vitamin A
Panthothenic Acid
These ingredients have all been carefully researched and chosen for their benefits to combat hair loss. Extracts derived from saw palmetto can block the production of DHT which causes hair loss. Gingko Biloba can improve the blood flow to the head which allows hair follicles to absorb sufficient oxygen and nutrients. Borage oil is often used in hair care products due to its ability to strengthen hair. Silica is an essential mineral of the hair that prevents breakage. MSM helps prevent the thinning of hair by increasing keratin. L-Cysteine is a compound known for its hair growth properties. L-Methionine is an essential amino acid for healthy hair. Biotin deficiency can cause brittle hair. Selenium is a mineral known for slowing down signs of aging. The B Vitamin complex is a proprietary blend of essential vitamins that boosts the body's biochemical structure.
Daily Serving
The dosage of this product is pretty simple with a recommended dosage of two capsules per day. It is recommended to take the first one in the morning before a meal and the second one before dinner. Never exceed the recommended dosage as side effects may occur.
It is also advisable that pregnant women, individuals who have a present medical condition, and children first consult a doctor before taking this supplement.
The Cost
HairNu is available for purchase in single and monthly supply packages online through the manufacturer's website. One bottle of this hair growth supplement is priced at $49.95. There is a Beginner Package that offers two bottles for $34.95. The Moderate Package includes three bottles with each being priced at $31.95. The Advanced Package consists of four bottles at $27.95 each. Their Progressive Package drops the price to $24.95 per bottle (five bottles). Finally, their Top Selling Package includes six bottles at a cost of $23.30 each.
Guarantee
The official website offers a 60-day money back guarantee for HairNu. You can return it within this period even if the bottle is already opened. It will usually take a little over a month for results to be visible, so the 2-month money back return policy is a reasonable enough time for those who might not experience the results they were hoping for.
Our Review Summary of HairNu
HairNu comes packed with all vitamins and minerals that are known to help fortify hair integrity, scalp health and stimulate hair growth. The selection of various packages also helps you save cash if you wish to use it as maintenance. The money-back guarantee also makes this product a risk-free purchase compared to other products on the market.
Well researched reviews, from the experts at Research & You.