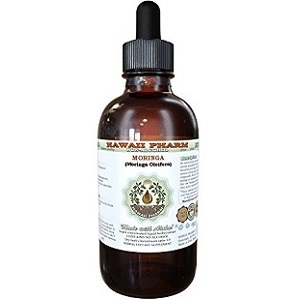 Hawaii Pharm Moringa Liquid Extract - Does it Work?-Review
What is Hawaii Pharm Moringa Liquid Extract?
Today we will review Moringa Liquid Extract, manufactured by Hawaii Pharm. The Moringa tree is found in India, in the Himalayan mountains. The manufacturer claims that this liquid extract has a wide variety of health benefits. This is why they took the Moringa Oleifera and designed the Hawaii Pharm Moringa Liquid Extract. To learn more about this herbal dietary supplement, read our review below.
Ingredients & How It Works
Organic Moringa Oleifera dried leaf powder is the only active ingredient found in this supplement. The capsule is made out of vegetable palm glycerin, alcohol, and water. Hawaii Pharm Moringa Liquid Extract contains no soy, wheat, artificial color or preservatives.
The Moringa plant is filled with vitamins, minerals, and proteins. This is why it is claimed by the manufacturer to be such a beneficial dietary supplement. It is believed to support constipation, high blood pressure, kidney stones, diarrhea, respiration, and thyroid disorders. It is also a strong antioxidant which protects the body against free radicals.
Daily Serving
The bottle of Hawaii Pharm Moringa Liquid Extract must be shaken well before use. Drop 20-30 drops (1 ml) into a glass with 2-4 oz. of water, juice or tea. It can also be dropped directly into the mouth, however, the taste may be unpalatable. It is suggested by the manufacturer to use up to 4 times a day or by following your healthcare professional's advice. One serving provides 970 mg, whilst 4 servings provides 3880 mg - this is in the concentrated liquid form. For this product to be effective, one will have to consume between 3 and 4 servings a day. Hawaii Pharm Moringa Liquid Extract is not to be used during pregnancy and a physician should be consulted if nursing or on medication.
The Cost
Hawaii Pharm Moringa Liquid Extract can be purchased online from the manufacturer's website. It costs $19.95 for a 4 oz. (120 ml) bottle and one can purchase up to 2 Gal. The higher the quantity you purchase, the less you pay. Discount between 3% to 15% is available depending on the amount you spend. There are no bulk packages available. Free shipping is available on orders over $35 and only in the continental U.S., Hawaii, and Alaska.
Guarantee
Unfortunately, the manufacturer does not have a money-back guarantee on opened or used products. There is only a return policy for goods that are unopened or damaged. This must be reported within 5 days of receipt of goods. The weak guarantee may hinder the purchase of  Hawaii Pharm Moringa Liquid Extract, as customers want the freedom to be refunded if they are unsatisfied with the product.
Our Review Summary of Hawaii Pharm Moringa Liquid Extract
After looking at Hawaii Pharm Moringa Liquid Extract, there are a few things to like. It contains a main active ingredient of Moringa Oleifera and does not contain any preservatives or artificial color. There are however a few concerns we have about the product. The recommended dosage needs to start between 3 and 4 servings to be effective. The 120 ml bottle will be finished before the month has ended and the manufacturer does not provide bulk packages for purchase. Another concern we have is the poor money-back guarantee. This is a concern for customers who are unsatisfied with the results of Hawaii Pharm Moringa Liquid Extract. There are so many Moringa supplements on the market, that it would be wiser choosing one with a stronger guarantee. Due to these reasons, we are unable to recommend Hawaii Pharm Moringa Liquid Extract.
Well researched reviews, from the experts at Research & You.