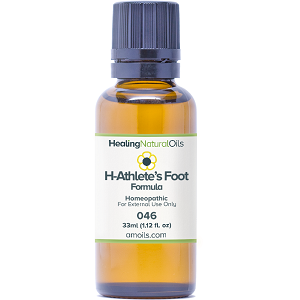 Healing Natural Oils H-Athlete's Foot Formula - Does It Work?-Review
What is Healing Natural Oils H-Athlete's Foot Formula?
The following is our review of Healing Natural Oils H-Athlete's Foot Formula. This product is an at-home treatment for athletes foot. It fights against blisters, peeling, itching, and burning that was caused by athletes foot. It is 100% natural with no harsh additives. It is gentle on the skin and extremely fast acting. It is manufactured in a certified GMP facility. Continue reading for our full review.
Ingredients & How It Works
Calendula officinalis 12C,
Lycopodium clavatum 12C,
Thuja occidentalis 12C
Other ingredients include: Essential Oil Blend (Cymbopogon flexuosus whole plant, Lavandula officinalis flower bud, Melaleuca alternifolia leaf-branch, and Pelargonium graveolens whole plant).
This product uses established homeopathic ingredients that are remarkable healing agents. It also contains the highest quality pure natural essential oils. It quickly soothes itching and burning in a completely natural way.
Daily Serving
It is recommended to apply to the affected area using a cotton swap to apply the product topically. Only a few drops are needed per application. This product should not be ingested. If you are pregnant or nursing, you should not use this product. It is safe to use on children over the age of 4.
The Cost
Healing Natural Oils H-Athlete's Foot Formula is sold on the manufacturer's website for $27.95 for the 11ml bottle and $64.95 for the 33ml bottle . It is usually sold for $29.95 and $69.95 respectively. It is unclear how long each size will last you will last you, but either way it seems like expensive prices for such small bottles. The FAQ page says that the product should last you 100 applications if you get the 11ml size.
Guarantee
This product is backed by a 90-day money-back guarantee. If you are unhappy with the product for any reason, send back the bottles within 90 days from the date of purchase and you will be refunded. You should include your invoice or email confirmation for expedited processing. Once your product is received, your account will be credited for the product purchase immediately.
Our Review Summary Of Healing Natural Oils H-Athlete's Foot Formula
There are a couple of positive things about Healing Natural Oils H-Athlete's Foot Formula. It has many positive customer reviews directly on the manufacture's website. Customers said that they liked the smell of this product, that it really worked for them and they also said they had a great experience with customer service. This product is also made from homeopathic ingredients which they claim are guaranteed to be effective. There were a couple of negatives as well. This product is very expensive for such small bottles. It also seems like you don't actually get a refund if you don't like the product, you instead just get credit added to your account which shows us that the manufacturer's don't have much confidence in their products effectiveness. It also doesn't really allow the customer to have a risk-free buying experience. We feel you can find a more affordable product elsewhere.
Well researched reviews, from the experts at Research & You.