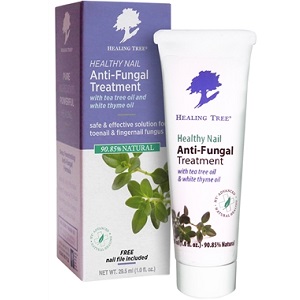 Healing Tree Anti-Fungal Treatment - Does It Work?-Review
What is Healing Tree Anti-Fungal Treatment?
Today we review Healing Tree Anti-Fungal Treatment. A fungal infection in the nail and surrounding skin area can be very irritating and embarrassing, so it is best to get rid of the infection as quickly as you can. Fungal infections under the nail can cause nail discoloration and can cause the nail to crack and break. Anti-Fungal Treatment claims to absorb easily and penetrate deep into the nail, nail bed and surrounding skin for effective relief that is long lasting. This product incorporates natural ingredients that have anti-fungal properties that help to eliminate the infection effectively. If you would like to know more about this product, read the rest of the review below.
Ingredients & How It Works
0.25% Benzethonium Chloride
Water
Jojoba Oil
Tea Tree Oil
White Thyme Oil
Thickener
This product uses Benzethonium Chloride as the main active ingredient to combat fungal infections of the nail. Although this ingredient does treat fungal infections it is not as good as Undecylenic Acid (25%), which has been proven to be the best ingredient to fight nail fungal infections in multiple medical studies. The Tea Tree Oil and Jojoba Oil provide effective relief and soothe affected skin whilst having antimicrobial and anti-inflammatory properties that can quicken healing even more of the nail, nail bed and surrounding tissues.
Daily Serving
Unfortunately, the manufacturer's website contains no information on how to properly apply this product for maximum results. After some research we can say that it is best to apply this product on the affected area after it has been thoroughly cleaned. You can apply it up to four times a day under the nail, on the nail bed and on the surrounding tissues. Wait for the product to absorb properly into the skin and dry before using your hands or feet to do other chores. If this product comes into contact with your eyes rinse your eyes thoroughly.
The Cost
You can buy this product directly from the manufacturer's website for $16.95. Each tube contains 29.5 ml of product and shipping charges is included in the price.
Guarantee
The manufacturer's website does not give information regarding their guarantee policy and ask that you contact their customer service to find out more. This policy wastes the time of the customer and lets it seem as though the company does not want to give full disclosure regarding an important aspect of their products. Without this information the customer simply can't make an informed decision.
Our Review Summary Of Anti-Fungal Treatment
We like that this product includes natural ingredients combined with active ingredients that form a good combination when trying to fight off a fungal infection. We also like that this product is easy to apply and is small enough to be carried with the customer. However, we feel that the dosage instructions regarding this product is not clear at all and the fact that the guarantee policy is not given up front on the website makes us question the abilities of this product. It also does not contain the best active ingredient currently on the market to combat nail fungal infections.
Well researched reviews, from the experts at Research & You.