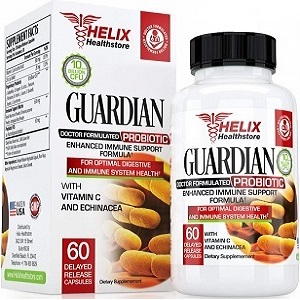 Helix Healthstore Guardian Probiotic - Does It Work?-Review
What is Helix Healthstore Guardian Probiotic?
The following review is of Helix Healthstore Guardian Probiotic. The manufacturer claims that this supplement enhances the immune system for optimal digestive health. The supplement is designed to provide relief from symptoms associated with Irritable Bowel Syndrome (IBS). The manufacturer argues that this quality approved extra strength formula provides safe and efficient results. We have assessed the reliability of this claim to help you make an informed purchase decision.
Ingredients & How It Works
Vitamin C - 500mg
Zinc - 20mg
Proprietary Probiotic - 10 billion CFU
Immune Support Matrix - 650mg
Prebiotic FOS - 50mg
The product contains beneficial ingredients used in other IBS support supplements. The Proprietary Probiotic blend contains essential enzymes such as Lactobacillus Acidophilus, Bifidobacterium Longum, B. Lactis, and L. Paracasei to name a few. These enzymes work to balance bacteria in the gut and, thus, enhance immune strength and combat detrimental effects of bad bacteria on the bowels. The Immune Support Matrix contains additional ingredients, such as Ashwagandha Root and Reishi Mushroom Powder, that work to support the immune system and combat inflammation, pain, and damage. The inclusion of the prebiotic Fructooligosaccharide aids in the supplements ability to deliver improved digestive support. The addition of Vitamin C and Zinc support nutrient deficiencies which hinder the body's ability to digest foods effectively. This formula is appealing, however, lacks certain ingredients found in competitor products. Aloe Vera and Psyllium, for example, are used in other formulas for their anti-inflammatory and soothing properties. Furthermore, many competitor products contain a dual action formula for optimal benefits. That said, it is positive to note that this product is manufactured in a cGMP certified facility. This is an indication that quality is a production priority.
Daily Serving
The manufacturer provides clear dosage guidelines for maximum benefit. Users are advised to take 2 to 4 capsules per day with meals. Each serving supplies sufficient concentrations of the included ingredients and may deliver ideal results. That said, the 10 billion CFU count of the Proprietary Probiotic blend is significantly lower than the 30 billion CFU count of certain competitor products. This low count may hinder the product's ability to work as intended.
The Cost
Potential customers can purchase this product from the manufacturer's online store. A bottle of 60 capsules costs $22.90. This price is reduced from $39.95 and, therefore, offers a significant saving. That said, the competitive price is likely a result of the formula lacking several ingredients found in competitor products. A further concern is that there are no bulk-buy deals to encourage long-term use. Considering the 4 capsule dosage per day for optimal benefit, prolonged use may become a costly endeavor.
Guarantee
The manufacturer offers a 100% Satisfaction Guarantee for purchases of this product. Returns are eligible within 60 days from the date of purchase. The guarantee suggests that the manufacturer is confident in product efficacy, however, refunds are subject to a 20% restocking fee. Therefore, unhappy customers will not receive a total refund for ineffective products. Furthermore, the guarantee does not offer clear return policy guidelines. The lack of transparency and vagueness may suggest that the policy is not as reliable as it is advertised. Another major concern is that there are very few customer reviews to support product efficacy. We, therefore, cannot confidently vouch for this product's ability to deliver optimal IBS support.
Our Review Summary Of Helix Healthstore Guardian Probiotic
Helix Healthstore Guardian Probiotic offers a few appealing selling points. It contains a number of beneficial ingredients and is relatively affordable. That said, there are many disadvantages to this product. The formula lacks additional ingredients, found in competitors, for improved results. Long-term use may become costly as there are no bulk-buy deals on offer. The return policy is vague and refunds are subject to a substantial restocking fee. And finally, limited customer reviews make it difficult to determine its guaranteed efficacy. Therefore, we do not recommend purchasing this IBS support supplement.
Well researched reviews, from the experts at Research & You.