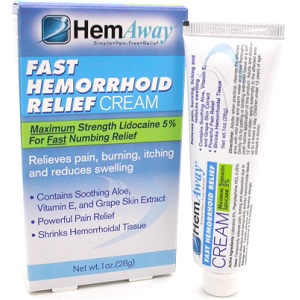 HemAway Fast Hemorrhoid Relief Cream - Does It Work?-Review
What Is HemAway Fast Hemorrhoid Relief Cream?
HemAway Fast Hemorrhoid Relief Cream is a topical cream that temporarily relieves hemorrhoid symptoms. While it does not directly treat hemorrhoids, it does, according to the manufacturer, temporarily relieve pain, burning and itching. It uses what is said to be a prescription strength formula, without requiring a doctor's prescription to purchase it. HemAway Fast Hemorrhoid Relief Cream is also claimed to treat anal fissures (small tears in the skin around the anal area) and other anorectal problems. Read our full review for all the details on this product to make an informed decision about buying HemAway Fast Hemorrhoid Relief Cream.
Ingredients & How It Works
HemAway Fast Hemorrhoid Relief Cream contains the following ingredients:
Lidocaine 5% - Acts as a local anesthetic, reducing pain, itching, and burning.
Phenylephrine - A vasoconstrictor, which narrows the blood vessels. It provides relief for both external and internal hemorrhoids by reducing swollen tissue.
Aloe
Grape Skin Extract
Vitamin E
Aloe, grape skin extract, and vitamin E act as soothing agents. They reduce inflammation and irritation around the affected area. HemAway Fast Hemorrhoid Relief Cream also includes what the manufacturer calls "permeation enhancers", which are said to enable quicker absorption, but the ingredients of this component are not detailed.
Daily Serving
Individuals 12 and older can use HemAway Fast Hemorrhoid Relief Cream. Before using clean and dry the affected area. Then apply the cream to the area. Do not apply it more than 4 times a day. Do not use this product on children under the age of 12.
HemAway lists the following warnings on their label:
HemAway Hemorrhoid Cream can cause allergic reactions
Individuals who have heart disease, high blood pressure, thyroid disease, diabetes or an enlarged prostate, should consult a doctor before using HemAway.
Stop using this product if the following side effects occur:
Rectal Bleeding
Condition does not improve after 7 days
Allergic reaction
Redness
Irritation
Swelling
Pain
The Cost
HemAway Fast Hemorrhoid Fast Relief Cream can be purchased through the manufacturer's website. There are three different purchase options. At the time of our review you could buy a 1 oz tube for $26.99. Two such tubes could be purchased for $50.98 and three were being sold at $71.98. All orders receive free shipping.
Customers can also purchase this product on websites such as Amazon, Walgreens, and CVS. Amazon was offering it for $31. Walgreens price was $29.99.
Guarantee
The manufacturer offers a 90-day guarantee. However, the language used in the return policy suggests that only unused products can be returned. Refunds will be given for products that are not damaged and in their original packaging. Customers must have proof of purchase and will also be responsible for shipping costs.
While there were a few positive Amazon customer reviews for this product, there were not enough at the time of writing for us to conclude definitively that the product is by and large effective in real-world use.
Our Review Summary Of HemAway Fast Hemorrhoid Fast Relief Cream
HemAway Fast Hemorrhoid Fast Relief Cream looks like a reasonable hemorrhoid relief product. HemAway contains what look to be effective ingredients that should work to relieve hemorrhoid symptoms. However, there are not many customer reviews about this product suggesting it has not gain traction yet. HemAway's price is competitive and the manufacturer offers a few different packages, making it more affordable.
Drawbacks to be aware of, however, are that the product comes with a somewhat restricted return policy under which only unused product can be returned. (Although we certainly understand this restriction with this type of product, new customers should be aware that they cannot try it risk-free). In addition, ultimately this product is really only addressing the symptoms. It might be better to look for a product that helps eliminate the causes.
Well researched reviews, from the experts at Research & You.