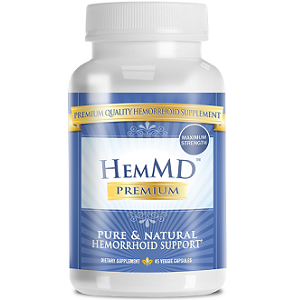 HemMD Premium - Does It Work?-Review
What is HemMD Premium?
It is estimated that three out of four people develop hemorrhoids at some point in their life. Hemorrhoids can cause major pain and discomfort and they may be a significant source of bleeding. Doctors normally let them regress on their own, which takes time while the symptoms still bug the victim or they have to perform an invasive procedure to remove them. Another option is using a hemorrhoid supplement like HemMD Premium, which contains scientifically researched ingredients that help the body to heal it hemorrhoids. This review will be closely examining the product.
Ingredients & How It Works
The manufacturer sells both a supplement to take for the ingredients to be absorbed internally and a cream to apply on the affected area externally.
The capsules contain:
Witch Hazel
Horse Chestnut
Diosmin
Ginger Root
Hesperidin
Oat Straw
Butcher's Broom
Bilberry
Plantain
Rutin
Mullein Leaf
Red Root
Cayenne Pepper
The cream contains:
Petrolatum
Mineral Oil
Butcher's Broom Extract
Glycerin
Oat Extract
Lidocaine HCL
Organic Marigold Extract
Witch Hazel
Bilberry Extract
Aloe Vera Gel
Ginger Root Extract
Peppermint Essential Oil
Rutin
Clove Bud Oil
Hesperidin
Diosmin
Psyllium Husk
Vitamin K
Melatonin
Ingredients like diosmin and cayenne improve blood flow so that the blood doesn't pool in the hemorrhoid tissue. Other ingredients like witch hazel and bilberry have anti-inflammatory properties, which reduce the inflammation in the swollen tissue. Other ingredients have lubricating properties so that the hemorrhoidal area is not subjected to physical trauma. These combined effects help to speed up the healing of hemorrhoids.
Daily Serving
The capsules can be taken by having two in the morning, two in the afternoon and two in the evening. The cream can be applied to the affected area three times per day. When the products are used in conjunction, they provide dual actions to promote hemorrhoid healing.
The Cost
A pack of 45 capsules or a cream of 2 fluid ounces is considered to be one item. One individual item goes for sale at $48. Two items which includes two of each formula or one item of supplements and one item of the cream will cost $80. Similarly, three items purchased together costs $91. Four items can be bought together for $112. Six items bought together cost $138.
Guarantee
The product is covered by a 90-day money back guarantee. That guarantee protects customers who are unsatisfied with their results. Customers may return the product, even if it has been opened and used, for a complete refund. Many customers who have tried to product have written positive feedback reviews about it though.
Our Review Summary Of HemMD Premium
The multi-action effect of this product is quite useful for improving the healing of swollen hemorrhoid tissue. The effects all support one another. All of the ingredients in this product have been scientifically proven and so it is likely to be effective.
The price of the product is also very reasonable and there are discounts available, which is very helpful. The guarantee is very strong so customers can have peace of mind when purchasing this product. Read up more about Premium Certified here. 
Well researched reviews, from the experts at Research & You.