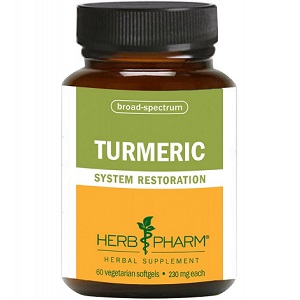 Herb Pharm Turmeric System Restoration - Does It Work?-Review
What Is Herb Pharm Turmeric System Restoration?
In this review, we will be taking a look at a new product from Herb Pharm called Turmeric System Restoration. When we hear the word turmeric we immediately think of food, however, the benefits of this spice go far beyond that. Turmeric has been used for its medicinal qualities in Asian and Ayurvedic medicine for many centuries. The active compound in this spice is called curcumin. This compound has many properties which provide the immune system with a boost. It acts as an anti-inflammatory, antiseptic and also has free radical fighting anti-oxidants.
Ingredients & How It Works
   200 MG Of Water-Extracted, Certified Organic Turmeric (Curcuma Longa) Root
   25 Mg Of Certified Organic Turmeric Root Supercritical Extract Providing 12 Mg Of Turmerones
   5 Mg Of Certified Organic Black Pepper (Piper Nigrum) Supercritical Extract.
   Certified Organic Olive Oil
   Beeswax
   Certified Organic Sunflower Lecithin
   Non-GMO Corn Modified Food Starch
   Vegetable Glycerine
   Purified Water
   Carrageenan (From Seaweed)
   Sorbitol
   Certified Organic Caramel Color (No Gelatin)
This seems like a good list of ingredients however we were a little concerned about a few things. Although this product contains Piper Nigrum, which is essential for absorption it does not contain enough for it to be truly effective. We were also slightly concerned about the addition of a colorant in this natural product.
Daily Serving
The manufacturers of this product recommend that you take one tablet once or twice a day. Unfortunately, the manufacturer does not give any further instructions so it is not clear whether or not you should be taking this supplement with a meal. We were also rather alarmed by the low dosage recommended for this product. At a maximum of 400 mg daily it falls far short of its competitors who recommend a dosage of at least 1000 mg to be taken daily.
The Cost
You can buy this product online directly from the manufacturer. They offer 60 soft gel capsules for $28.00  which is a one month supply if you follow the maximum dosage. This seems rather high as there are competing brands which offer much better value for your money.
Guarantee
Unfortunately, we were unable to find any information regarding a guarantee for this product. We feel that this is a large indication that the manufacturer does not trust their product. Companies who believe in the product they deliver are not afraid to assist customers who are not happy with their purchase.
Our Review Summary of Turmeric System Restoration
This product will provide you with an adequate boost to your immune system.  It is made entirely of natural ingredients and contains Piper Nigrum to help your body utilize this product. However,  this product does not meet industry standards in terms of dosage and it contains unnecessary additives. Additionally, this product seems to be overpriced. You can find a product which meets the recommended dosage for much cheaper at other sources.
Well researched reviews, from the experts at Research & You.