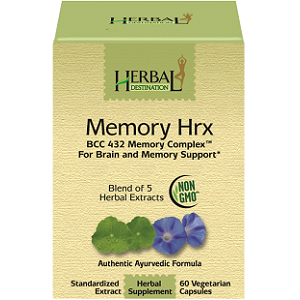 Herbal Destination Memory Hrx - Does It Work?-Review
What is Herbal Destination Memory Hrx?
When the brain gets overloaded with information or becomes weary, many individuals experience foggy minds, that prevents them from focussing. As such, many supplements have entered the market for the purpose of increasing mental ability. The following is a review for the brain booster Herbal Destination Memory Hrx. This product is categorized as a nootropic that claims to assist the proper function of the brain, increasing attention span, cognitive abilities, and memory.
Ingredients & How It Works
Bacopa (whole plant) (saponins 15%)
Gotu Kola (whole plant) (saponins 15%)
Aloe weed (whole plant) (bitters 2%)
Ashwagandha (root) (withanolides 1.5%)
Licorice (root) (glycyrrhizic acid 15%)
Bacopa is a plant that has been traditionally used in Indian medicine and is also commonly found in products geared toward Alzheimer's disease, memory, anxiety, and many other cognitive boosters. Gotu Kola is a herb with previous applications to depression and fatigue. Aloe weed is said to support brain health and memory function. Ashwagandha is a staple in Ayurvedic practices and has been used to help individuals sleep. While licorice is said to help with memory, due to a curbing effect on stress.
Daily Serving
There is no clear indication of what the daily dosage of this product should be. However, while it could not be confirmed, it might be two capsules. From our research, we were able to find very little additional information. We could identify that this product should be taken in the mornings and not in the evenings, as its active ingredients have waking effects. As with any dietary supplement, it is advised that you consult your healthcare professional before starting use.
The Cost
At the time of this review, the manufacturer's website was down but we could establish that this product is available for purchase on Essential Body Herbs at a price of $24.99 for one box containing 60 vegetarian capsules.
Guarantee
Due to the above mentioned technical difficulties, we were unable to find a returns policy on the manufacturer's website. However, the website that does sell this product did have a policy in place. If you are unhappy with this brain booster, you have to contact their returns department first. After which you have 30 days to claim your refund from original shipping date. A 15% restocking fee may apply and they are not liable for any shipping costs. While conducting our research we did find some negative product reviews.
Our Review Summary Of Herbal Destination Memory Hrx
After investigating Herbal Destination Memory Hrx for this review, we discovered that this memory enhancer did have some positive qualities. We liked that it had all natural ingredients and that it seemed to be somewhat affordable. On the other hand, it was concerning that we were unable to access the manufacturer's website for more information and that details pertaining to usage was limited. Furthermore, the negative reviews in conjunction with the above-mentioned factors make us believe that this is not the best brain booster available.
Well researched reviews, from the experts at Research & You.